Watch The Big Bang Theory
Leonard, Sheldon, Raj, and Howard aren't your average Pasadena post-grads. They are, each in his own right, geniuses, which makes for an interesting storm of nerdy antics and comical conundrums. Socially awkward, romantically-challenged, and professionally driven, the four stars play out more like brainy boys.
Watch Full Episodes of The Big Bang Theory

Season 10 Episode 16
The Allowance Evapor... (31:00)
Season 10 Episode 15
The Locomotion Rever...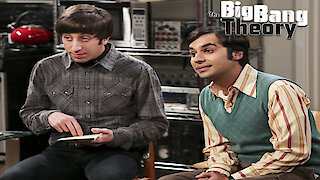 Season 10 Episode 14
The Emotion Detectio...
Season 10 Episode 13
The Romance Recalibr...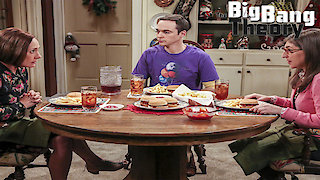 Season 10 Episode 12
The Holiday Summatio...
Season 10 Episode 11
The Birthday Synchro...

Watch Episodes
News
Clips & Extras
The Big Bang Theory

Full Episode Guide
Season
10
16 full episodes, 65 clips available
Episode

17

-

The Comic-Con Conundrum

The guys' annual trip to Comic Con is in doubt when Raj can't afford to go.

Episode

16

-

The Allowance Evaporation

Sheldon and Amy have their first fight since moving in together and Koothrappali is stunned by what financial independence really means when he stops receiving support from his father.

Episode

15

-

The Locomotion Reverberation

Leonard and Wolowitz try to distract Sheldon when he slows the progress of their guidance system. Also, Penny and Amy take Bernadette out for the night, leaving Raj and Stuart to care for baby Halley.

Episode

14

-

The Emotion Detection Automation

Sheldon uses a machine to help him identify other people's emotions, and Raj tries to make sense of why he struggles with women.

Episode

13

-

The Romance Recalibration

Sheldon gets involved when Leonard and Penny get into an argument. Meanwhile, Howard and Raj are determined to fix a squeaky floorboard in the baby's room.

Episode

12

-

The Holiday Summation

Sheldon and Amy see Leonard and Penny for the first time since the holidays and share the details of their trip to Texas.

Episode

11

-

The Birthday Synchronicity

Amy's birthday wish is to have an intimate night with Sheldon, but things are interrupted when Bernadette goes into labor.

Episode

10

-

The Property Division Collision

Sheldon and Leonard must separate their stuff and remove Penny's things from 4B.

Episode

9

-

The Geology Elevation

Sheldon is green with envy when Bert, a Caltech geologist, wins the MacArthur Genius fellowship. Also, Wolowitz finds an old remote control Stephen Hawking action figure he invented.

Episode

8

-

The Brain Bowl Incubation

Following a successful experiment combining their genes, Sheldon is determined to convince Amy they should procreate. Also, Koothrappali is ashamed to tell the gang the occupation of his new girl.

Episode

7

-

The Veracity Elasticity

Amy lies to Sheldon so she can still live with him. Later, they host an "on location" episode of "Fun With Flags" in Penny's apartment.

Episode

6

-

The Fetal Kick Catalyst

Penny is pleasantly surprised when she discovers she has fans of her performance in "Serial Ape-ist." Also, Amy hosts a Sheldon-style brunch at Penny's apartment, and Wolowitz gets spontaneous.

Episode

5

-

The Hot Tub Contamination

Episode

4

-

The Cohabitation Experimentation

When Amy's apartment floods, she proposes a "cohabitation experiment" with Sheldon. Also, Howard and Bernadette are upset when Koothrappali learns the gender of the baby before they do.

Episode

3

-

The Dependence Transcendence

Sheldon can't keep up with the late nights Howard and Leonard are putting in, Raj spends the day with a pregnant Bernadette and Penny and Amy attend a faculty party.

Episode

2

-

The Military Miniaturization

The Air Force shows interest in the guidance system and Penny lets it slip at work that Bernadette is expecting.

Episode

1

-

The Conjugal Conjecture

A night of revelry and bad decisions on behalf of the guys' parents results in an awkward morning. Penny's dysfunctional family is in town as well; chaos ensues.
Season
9
24 full episodes, 14 clips available
Episode

24

-

The Convergence Convergence

Leonard and Penny get remarried in front of their friends. Meanwhile, chaos erupts when Leonard's parents and Sheldon's mother make a connection. Howard gets a cryptic email from the Air Force about his invention.

Episode

23

-

The Line Substitution Solution

Sheldon hires Stuart to spend the day with Amy so he can attend a movie screening. Meanwhile, Leonard's mother visits and Penny struggles to make a connection with her.

Episode

22

-

The Fermentation Bifurcation

Sheldon and Bernadette skip out when the group goes wine tasting.

Episode

21

-

The Viewing Party Combustion

A Game of Thrones viewing party takes an unexpected turn.

Episode

20

-

The Big Bear Precipitation

Sheldon, Amy, Leonard and Penny head to Big Bear for a getaway together. Meanwhile Raj intervenes in Bernadette and Howard's baby discussion.

Episode

19

-

The Soldier Excursion Diversion

Amy gets Sheldon a new laptop, but is shocked by his reaction. Koothrappali tattles on Leonard and Wolowitz after they lie to their wives in order to attend an early screening of a movie.

Episode

18

-

The Application Deterioration

Sheldon draws up a contract that explains how they will divide their portion of their guidance system invention royalties, but Bernadette doesn't agree with it. Raj must again decide between Emily and Claire when they both contact him.

Episode

17

-

The Celebration Experimentation

The gang finally celebrates Sheldon's birthday after nine years of friendship and gives him the surprise of his life.

Episode

16

-

The Positive Negative Reaction

Bernadette is surprised by Howard's reaction to news he's going to be a father. How will everyone else react?

Episode

15

-

The Valentino Submergence

Sheldon and Amy host a live Valentine's Day episode of Fun with Flags, Leonard and Penny struggle with aging, Howard and Bernadette find a surprise in their hot tub and Raj is torn between his feelings for Emily and the cute girl he met at the Comic Bookstore.

Episode

14

-

The Meemaw Materialization

Sheldon is excited when his Meemaw comes to visit, but things quickly go south when she clashes with Amy. Also, Raj meets a new girl at the comic book store who makes him doubt his relationship with Emily.

Episode

13

-

The Empathy Optimization

Leonard, Penny and the gang decide to treat themselves to a Sheldon-free weekend after dealing with him when he's sick.

Episode

12

-

The Sales Call Sublimation

Leonard sees a psychiatrist for Penny. Also, Sheldon and Koothrappali collaborate on an astronomical discovery.

Episode

11

-

The Opening Night Excitation

Sheldon and Amy have been together for half a decade and finally spend their first night together. Also, Leonard, Wolowitz, and Koothrappali must decide who will take their extra Star Wars movie ticket.

Episode

10

-

The Earworm Reverberation

No one knows the song that is constantly playing in Sheldon's head, but it reminds him of Amy and he has an epiphany. Meanwhile, Amy reenters the dating game.

Episode

9

-

The Platonic Permutation

Sheldon and Amy hang out as friends on Thanksgiving at the aquarium. Meanwhile, Wolowitz is hesitant to volunteer at the soup kitchen with Bernadette.

Episode

8

-

The Mystery Date Observation

Leonard, Penny and Bernadette spy on Amy, who has a date. Sheldon leaves it up to Howard and Raj to help him find a new girlfriend since they found Amy for him.

Episode

7

-

The Spock Resonance

During an interview for a documentary about Spock from "Star Trek," Sheldon struggles to keep his emotions in check in the wake of his recent break-up with Amy.

Episode

6

-

The Helium Insufficiency

In the middle of a national helium shortage, Sheldon and Leonard act aggressively to find the supplies they need. In addition, Penny and Bernadette search for a new boyfriend for Amy by downloading a dating app on her phone.

Episode

5

-

The Perspiration Implementation

The boys take a fencing class from Barry Kripke and Sheldon gets uncomfortable when Kripke shows interest in Amy. Penny, Amy, and Bernadette stop by the Comic Book Store to help Stuart gain girl customers.

Episode

4

-

The 2003 Approximation

Sheldon chooses to revert to the year 2003 after he hears about an alteration in his living situation. Meanwhile, Howard and Raj put together a band to perform at the Comic Book Store.

Episode

3

-

The Bachelor Party Corrosion

The guys try to go on a surprise belated bachelor-party for Leonard to Mexico. The girls rely on Penny to let her family know about her and Leonard eloping.

Episode

2

-

The Separation Oscillation

Leonard talks to the girl he kissed on the North Sea in order to comfort Penny. Meanwhile, Sheldon shoots an episode of "Fun with Flags" after he splits up with Amy, and keeping a secret from Penny makes Bernadette feel guilty.

Episode

1

-

The Matrimonial Momentum
Season
8
24 full episodes, 1 clip available
Season
7
24 full episodes, 4 clips available
Season
6
24 full episodes, 1 clip available
Season
5
24 full episodes
Season
4
24 full episodes
Season
3
23 full episodes
Season
2
23 full episodes, 1 clip available
Season
1
17 full episodes, 2 clips available
If You Like The Big Bang Theory, Then Try...
Most Popular The Big Bang Theory Episodes
Season 10 Episode 16

The Allowance Evaporation

2/16/2017

Season 1 Episode 1

Pilot

9/24/2007

Season 10 Episode 15

The Locomotion Reverberation

2/09/2017

Season 10 Episode 1

The Conjugal Conjecture

9/19/2016

Season 10 Episode 14

The Emotion Detection Automation

2/02/2017
The Big Bang Theory News
'Big Bang Theory' (Probably) Coming Back for Two More Seasons
CBS is reportedly close to a deal to keep the series on the air (and with its cast intact) for at least two more seasons.
'Big Bang Theory' Starts the New Year Strong
The most-watched series on TV is back after a break, and it's still on top of the ratings.
Young Sheldon to Star in 'Big Bang Theory' Spin-Off
If you've been dying to know what Sheldon Cooper was like as a kid, you'll eventually be able to find out. A new spin-off prequel to TV's most beloved comedy is on the way.
'Big Bang Theory' Gets a (Last?) Season Premiere Date
The series might not return after the upcoming season, but at least now we know when season 10 will begin.
'Big Bang Theory' Season Finale: Another Wedding?
The Big Bang Theory's season 9 has been all about nuptials, from the beginning to the end. The season-ending wedding ceremony promises to be bigger and better than the one that began the season.
Kaley Cuoco Not Leaving 'Big Bang Theory'
Sometimes it's hard to know who to believe, but when it comes to choosing between rumors and Kaley Cuoco herself, you should probably choose Kaley.
Really Big Bang: Sheldon and Amy Go All the Way
Few characters on TV are as pure and innocent as Sheldon Cooper, at least for now. That will change in a few weeks, though.
Big Bang Divorce: Kaley Cuoco and Husband Split
In the land of make-believer, Kaley Cuoco is experiencing marital bliss. In real life, not so much.
Big Bang Wedding Wins the Night, Blindspot Draws a Crowd
As the fall TV season starts to roll out, it looks like CBS' Monday-night line-up is the one to beat. NBC, though, might just turn at least part of the night into a real battle.
View More News

The Big Bang Theory Video Clips & Extras
How Long Can Kunal Nayyar Hold His Breath?
Clip (01:02)