Watch The Golden Globe Awards Online - Full Episodes
Series Length:
24 Seasons,

27

Episodes
Description:
The Golden Globe Awards are special awards that are presented to the best in Television and Cinema as chosen by the members of the Hollywood Foreign Press Association. The Golden Globes have been presented every year since 1944. Twenty years later, in 1964, the show would be broadcast to Television viewers. The show has aired every year since then except for 2008.
The awards for excellence in television programming are doled out in separated categories for Comedy and Dramatic programming as well as for mini-series and made for TV motion pictures. The awards presented each year include Best Series, Best Actor, and Best Actress.
The film awards are also unique because they also recognize best film, actor and actress in a comedy/musical as a different category than best film, actor, and actress in a dramatic film. There are also awards for best supporting actor and actress and best director. There is also a special award presented each year for lifetime achievement in motion pictures. This award is called The Cecil B. DeMille Award. Past DeMille award winners include Hollywood heavyweights such as Jodie Foster, Steven Spielberg, Harrison Ford, Barbara Streisand, Dustin Hoffman, Clint Eastwood, Lucille Ball, Henry Fonda, John Wayne, Bob Hope, Judy Garland and Walt Disney.
The environment for the Golden Globes Telecast is very different from other more traditional award shows. The nominees are seated in a restaurant style table alignment instead of in theatre seating. Up until 2009 there was no official host for the show, but since then comedic actors Ricky Gervais, Amy Poehler, and Tina Fey have all handled host duties.
The most recent edition of The Golden Globes Awards featured film wins from Argo and Les Miserables and Television wins for Homeland and Girls.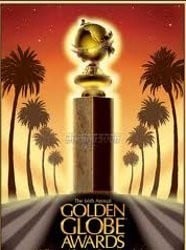 If You Like The Golden Globe Awards, Then Try...
The Golden Globe Awards News
View More News