Watch The Grapevine w/ Brit Hume Online - Full Episodes
Description:
The Grapevine with Brit Hume is one of the top rated segments among all of the twenty-four hour cable news networks. This two- minute segment appears during the one hour news program titled, Special Report with Brit Hume. Statistics show that thousands of people tune into that segment of the show, even if they are currently watching something else.
During the Grapevine with Brit Hume, you will hear bits of news or gossip that you will not see or hear on any other news program. These small segments of news are reported as always being unique, interesting and sometimes even hilarious. Every segment is different on the Grapevine with Brit Hume. During one moment of The Grapevine, Hume will cover how a shoemaker from Iraq is going to have a Merry Christmas, with an air of laughter in his voice, the next topic may be a success story about the how America is tackling homelessness, with all seriousness, and the next moment may be a funny small piece of Hollywood gossip. What is common among the topics covered in this two minute segment is that reports show they are always refreshing, clear, and done in a way that is very entertaining. Although not all reporters agree with this fact, the people who tune in for the segment report otherwise.
The Grapevine segment airs halfway through the one-hour news show that Brit Hume anchors, and if you go on the internet before the show airs, you will find people betting on what adjective he will use in his famous opening line of The Grapevine. Adjectives that Brit Hume uses to describe the two minute segment range from compelling, stimulating, entertaining and interesting, to amusing, pleasurable and most of all enjoyable. The Grapevine with Brit Hume has quickly become a household word.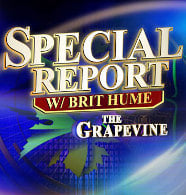 View More Clips & Extras