Watch The Skunk Whisperer
The Skunk Whisperer is a reality television show. It features a company which controls wildlife. Each episode of this shows follows the adventures of a team who remove wildlife from areas where they do not belong. Wild animals can be dangerous when frightened and hurt themselves or the people who discover them. This team is called in to move the animals without harming them.
The focus of this series is to show how man is invading the space of animals. As this happens there are more and more incidents of meeting wildlife in suburban areas. This team removes these animals for the safety of the animals.
Sunday 8:00 PM et/pt on Animal Planet

1 Season,

8

Episodes - Currently Airing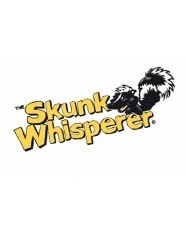 The Skunk Whisperer

Full Episode Guide
Episode 8 - One Last Bang!

Stormy's pregnant wife is concerned that he'll never grow up; Ned deals with a gaggle of displaced geese.

Episode 7 - Stormy Gone Wild

Prior to leaving for a company camping trip, the whole team responds to help a client rescue a fox from his shed.

Episode 6 - What's Eating Ned Bruha?

Ned tries to get Chris and Stormy into shape before going on a wild goose chase.

Episode 5 - Snakes, Owls and Bees

Ned evicts a pesky snake while Stormy, Chris and Johnny attempt to transport a beehive before an angry swarm engulfs them.

Episode 4 - Stormy's Washed Up

Episode 3 - Sprayed in Oklahoma

Episode 2 - Ned to the Rescue

Episode 1 - It's a Baby Thang
If You Like The Skunk Whisperer, Then Try...