Watch The Skunk Whisperer
When the wild animal world envades your domestic residence, critter specialist Ned Bruha is the man to call. He's a specializes in the humane removal of wildlife and repairs property damage to prevent them from invading again.
Sunday 8:00 PM et/pt on Animal Planet

1 Season,

8

Episodes - Currently Airing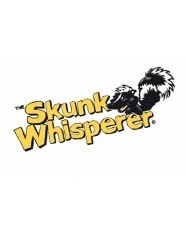 The Skunk Whisperer

Full Episode Guide
Episode 8 - One Last Bang!

Stormy's pregnant wife is concerned that he'll never grow up; Ned deals with a gaggle of displaced geese.

Episode 7 - Stormy Gone Wild

Prior to leaving for a company camping trip, the whole team responds to help a client rescue a fox from his shed.

Episode 6 - What's Eating Ned Bruha?

Ned tries to get Chris and Stormy into shape before going on a wild goose chase.

Episode 5 - Snakes, Owls and Bees

Ned evicts a pesky snake while Stormy, Chris and Johnny attempt to transport a beehive before an angry swarm engulfs them.

Episode 4 - Stormy's Washed Up

Episode 3 - Sprayed in Oklahoma

Episode 2 - Ned to the Rescue

Episode 1 - It's a Baby Thang
If You Like The Skunk Whisperer, Then Try...