Watch TV Land Confidential
Series Length:
2 Seasons,

13

Episodes
Schedule:
Wednesdays at 10:00 pm on TV Land
Description:
A look behind the scenes of TV series and its performers. Untold stories being revealed for the first time by the actors themselves.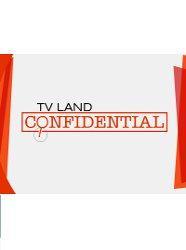 TV Land Confidential

Full Episode Guide
First Aired: August 08, 2007

What happened when the Monkees met the Beatles? How did Motown turn out so many hits? Which Woodstock performer wrote a song in front of the half million people in attendance 'and why? What did Michael Jackson confess to Donny Osmond? We'll hear inside stories about song-writing and get the real story behind songs!

First Aired: August 01, 2007

Why did a reluctant Ray Romano need to be dragged off to Italy? How did the Brady kids like shooting in Hawaii? From an evacuation on the set of Lost, to vacationers becoming part of a scene on the hit show Las Vegas; when a television shows goes on location – you can bet the unexpected happens and the untold stories are plentiful.

First Aired: July 25, 2007

How did Christopher Lloyd go from a guest spot on Taxi to becoming a series star as Reverend Jim? Who showed up as a guest star and ended up marrying the star of a popular 80's sitcom? Why did a Mary Tyler Moore audience boo one guest star just for kissing Murray? Get the untold tales of the sometimes celebrated, sometimes unsung guests stars of series television.

First Aired: July 18, 2007

What finale was originally planned for Mary Tyler Moore? And how did Bob Newhart keep the secret of his final Newhart episode? In the world of television all good things must come to an end – from the hit shows that go out with a bang to the series that are quietly canceled there's always a story behind the send-off. But on TV, good-bye doesn't always mean forever. How did What's Happening get a second chance at life and why didn't Larry Hagman appear in the Jeannie reunion movies? Saying goodbye was never so much fun.
Episode 7 - Changing Times and Trends

Episode 6 - Being Bad Behind the Scenes

Episode 5 - Breakout and Disappearing Stars

Episode 4 - Writing, Rehearsing and Recording

Episode 3 - Casting and Character Creation

Episode 2 - When Real Life and Screen Life Collid...

Episode 1 - Network Notes