Watch Wild India (Land of the Tigers)
The Indian subcontinent, encompassing Pakistan, Sikkim, Nepal, Bhutan, Bangladesh and Sri Lanka, is home to a dazzling array of plants and animals. In this series, wildlife expert Valmik Thapar takes us on a journey from the red deserts of Rajasthan to the snowy peaks of the Himalayas, through lush mangrove forests to the sparkling coral reef waters of India's west coast.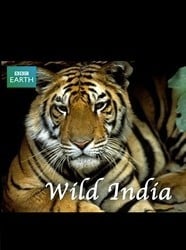 Wild India (Land of the Tigers)

Full Episode Guide
Episode 6 - Monsoon Forests

Valmik travels to the lush monsoon rainforests of the Indian sub-continent. He journeys from Assam in the northeast, to the Western Ghats in southern India and across the seas to Sri Lanka. These fabled forests are rich in wildlife.

Episode 5 - Mountains of the Gods

Valmik travels to the source of the Ganges which is one of the most sacred pilgrimage sites for Hindus. The infant Ganges carves its way into the forest that clothes much of the southern face of the Himalayas and in spring the slopes blush deep pink with rhododendrons.

Episode 4 - The Desert Kingdom

Valmik discovers thousands of demoiselle cranes in the dunes around the tiny village of Keetchan. They fly across the Himalayas from Russia and China to spend the winter in the desert and have been welcomed and fed by the villagers for hundreds of years.

Valmik sets sail on a voyage of discovery, from the Arabian Sea to the Bay of Bengal, helped by the same ocean currents that drove the first explorers around the coast of India. His first encounter is with a monster 15 meters long and weighing more than 18 tons. This sea creature poses no danger; it is a whale shark, the largest fish on Earth.

Episode 2 - Sacred Waters

Episode 1 - The Tiger's Domain
If You Like Wild India (Land of the Tigers), Then Try...