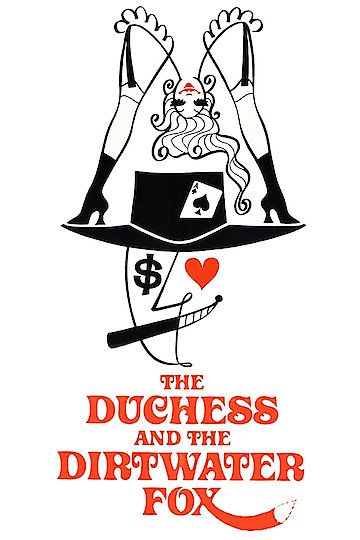 Watch The Duchess and the Dirtwater Fox
"Once upon a time, If the rustlers didn't get you, the hustlers did."
PG
1976
1 hr 43 min
The Duchess and the Dirtwater Fox is a romantic comedy from 1976 starring George Segal, Goldie Hawn, and Conrad Janis. The movie is set in the Wild West, and it tells the story of two very different characters who end up traveling together. Goldie Hawn plays a woman named Amanda Quaid, who is known as the Duchess. She is a professional gambler and a con artist who is always on the lookout for her next victim. She is charming and flirtatious, and she knows exactly how to manipulate people to get what she wants.
George Segal plays a man named Charlie Malloy, who is known as the Dirtwater Fox. He is a petty thief who can never seem to catch a break. He has a good heart, but he is not very smart, and he always ends up getting himself into trouble.
The Duchess and the Dirtwater Fox meet when Amanda is caught cheating at a card game. Charlie sees an opportunity to make some money by helping her escape, and he agrees to take her to San Francisco. Along the way, the two of them get into all kinds of trouble, and they have to rely on each other to get out of it.
As they travel together, Amanda begins to see Charlie in a different light. She realizes that he is not just a petty thief, he is also a kind and caring person who has been dealt a bad hand in life. Charlie, on the other hand, is smitten with Amanda and can't believe his luck that he gets to travel with such a beautiful and sophisticated woman.
The movie is full of hilarious situations that the two of them get into. For example, at one point, they have to perform a song and dance routine in a saloon to avoid being arrested. Another time, they end up robbing a bank and then have to hide from the sheriff who is hot on their trail.
Despite the chaos that surrounds them, Amanda and Charlie start to fall in love. However, they both know that their different lifestyles and backgrounds make it impossible for them to be together. Amanda is a high-class gambler who travels the world, while Charlie is a small-time thief who has never left his hometown.
As they near San Francisco, Amanda and Charlie realize that they have to say goodbye. It is a bittersweet moment, as they have become very close during their journey. They part ways, but not before confessing their love for each other.
The Duchess and the Dirtwater Fox is a classic romantic comedy that is full of laughter and heart. The chemistry between Goldie Hawn and George Segal is electric, and they both deliver unforgettable performances. The movie is a must-watch for anyone who loves a good romantic comedy with a Wild West twist.