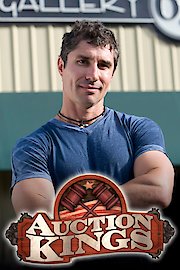 Watch Auction Kings
Auction Kings was a popular reality show that premiered on the Discovery Channel in 2010. It was centered around the world of auctions and the works of Paul Brown, the owner of Gallery 63, a large auction house in Atlanta. The show provided a unique glimpse into the world of auctions, where people from all walks of life brought in treasures, ranging from antiques, vintage toys, ancient artifacts, and collectibles. The items offered on the show were all unique, and each had its own compelling story. Throughout the course of the series, viewers watched as items were sold and their fortunes changed hands as the bidders jostled for position.
Paul Brown, who was featured as the main personality in the show, was an expert in the art of auctions. He was well-versed in the history and craftsmanship of the items brought in for auction, and he knew how to drum up excitement within the bidding audience.
Paul was assisted by his team of auctioneers, including Cindy Shook, Jon Hammond, and Delfino Ramos. Cindy was the chief cataloger and kept track of all the items, while Jon Hammond was responsible for the authentication and appraisal of the items. Delfino was in charge of setting up and cleaning up the auction house after the event.
The auctions took place in a massive space with plenty of room for bidders, antique collectors, and enthusiasts to participate. The bidding was fierce, and it was exciting to watch people battle it out for items that they were passionate about.
The show was not only entertaining, but it also had educational value. Auction Kings covered various topics related to the items, such as their cultural significance, history and background, manufacturing process, and value in the market. It was fascinating to see how old items could be worth so much and how their value varied depending on different factors.
Auction Kings was a show that was suitable for anyone who was interested in antiques and vintage collectibles. It was not only entertaining but also informative, making it an excellent choice for those with an unrelenting curiosity for the unknown.
The show was shot with high-definition cameras which made the overall experience feel authentic and immersive. The sound design was excellent, capturing the sounds of the auction house and the excitement of the bidding. Additionally, the show's pacing was slow enough for viewers to get a good look at the items while also keeping them engaged throughout the auction process.
Overall, Auction Kings was a must-watch for people who were interested in the world of antiques, auctions, and collectibles. The show was well produced, informative and exciting, and the personalities behind it made for an enjoyable program that was beloved by audiences.
Auction Kings is a series that is currently running and has 4 seasons (91 episodes). The series first aired on October 26, 2010.