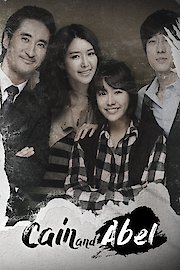 Watch Cain and Abel
Cain and Abel is a South Korean television drama that premiered on SBS in 2009. The show explores the complex relationship between two brothers, Lee Cho-in (played by So Ji-sub) and Lee Seon-woo (played by Shin Hyun-joon), as they navigate the challenges of their personal and professional lives.
Cho-in is a talented cardiothoracic surgeon who is highly respected within the medical community. Despite his success, he has a troubled past and a difficult relationship with his father, who is also a renowned doctor. Seon-woo, on the other hand, is a skilled businessman who runs a successful construction company. Unlike Cho-in, Seon-woo is loved and admired by his father.
The differences between the brothers are further exacerbated by their romantic interests. Cho-in falls in love with Oh Yeon-ji (played by Han Ji-min), a cardiac surgery fellow who shares his passion for medicine. Meanwhile, Seon-woo is engaged to Kang So-yeong (played by Chae Jung-an), the daughter of a powerful and influential business leader.
As the series progresses, tensions between the brothers rise and their relationship becomes increasingly fraught. Cho-in is determined to prove himself to his father and to become the best surgeon in the country, but he faces numerous obstacles along the way. He must contend with jealous colleagues who are threatened by his talent, as well as personal demons that threaten to derail his career.
Seon-woo, meanwhile, faces his own challenges as he struggles to maintain his business empire and protect his relationship with So-yeong. He is forced to make difficult decisions as he comes under pressure from his father-in-law and other powerful businesspeople.
Ultimately, Cain and Abel is a story about the complexities of family relationships and the sacrifices that people make in pursuit of their dreams. It is a highly emotional drama that is driven by strong performances from its talented cast.
So Ji-sub delivers a standout performance as Lee Cho-in, bringing a complex and multifaceted character to life. He imbues Cho-in with a mixture of confidence, vulnerability, and inner turmoil that make him a compelling and relatable protagonist. Shin Hyun-joon is also excellent as Seon-woo, conveying a range of emotions and motivations that make his character both sympathetic and complex.
The show is visually impressive as well, with beautifully shot scenes that capture the glamour and intensity of the medical and business worlds. The drama is expertly paced, and viewers will find themselves eagerly anticipating each new twist and turn in the story.
Overall, Cain and Abel is a must-watch for fans of Korean drama. It is a powerful and emotional story that expertly explores the complexities of family relationships and the sacrifices that people make in pursuit of their dreams.