Chopped: Impossible
Chopped: Impossible features 12 of the past contestants who have been on the show. The special is divided into four parts. There are still basket ingredients that are used, but they are items that seem almost impossible to work with to make a delicious meal. Robert Irvine is a judge during the series, but on the final episode, he competes with the winners of the first three rounds.
Instead of the typical $10,000 prize, the winner of the series will win $15,000. This is due in part to the ingredients being so difficult to work with. If the winner can beat Robert Irvine in the final round, he, or she, will win an additional $25,000. Some of the basket ingredients are those that viewers might not imagine eating, such as alligator and cricket flour in an appetizer round and 100-year-old eggs that have to be used to make an entree.
Thursday 9:00 PM et/pt on Food Network

1 Season,

4

Episodes

October 22, 2015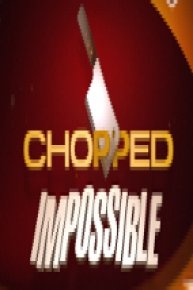 Chopped: Impossible Full Episode Guide
Episode

4

-

Chopped: Impossible, Grand Finale

Episode

3

-

Chopped: Impossible, Part 3

Episode

2

-

Chopped: Impossible, Part 2

Four new returning champs take on the second preliminary round of the Chopped: Impossible tournament, with Chef Robert Irvine watching their every move from the judges' table. In the appetizer round, the basket features a strange duck and a green dessert, while nerves throw some chefs off their game. Then, in the entree round, an infamous Chopped ingredient makes a return appearance, followed by a meaty sandwich in the dessert basket.

Episode

1

-

Chopped: Impossible, Part 1

Chopped Champions return for an epic tournament of Chopped: Impossible, with Restaurant: Impossible's Chef Robert Irvine on the judging panel! In the first of three preliminary battles, the competitors face some of the most mind-blowing baskets, including whipped topping in the first round and offal and stinky cookies in the entree round. And in the dessert round, one of the ingredients has teeth!