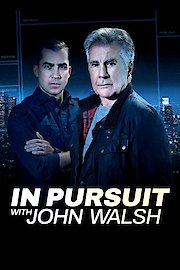 Watch In Pursuit with John Walsh
TV-14
2019
4 Seasons
In Pursuit with John Walsh is a television series that premiered on Investigation Discovery in January of 2019. The show is centered around former homicide detective and victims rights advocate John Walsh, who is best known for hosting the long-running television series America's Most Wanted.
In this series, Walsh and his team work to track down fugitives and missing persons, often exploring cases that have fallen through the cracks of traditional law enforcement methods. Each episode of In Pursuit follows two cases, with Walsh and his team providing insight into the details of the crimes and the individuals who committed them.
The show is co-hosted by Walsh's son, Callahan, who also works as a victims advocate and is actively involved in efforts to locate missing persons. Jay Heselschwerdt, a former FBI special agent, serves as the show's lead investigator and works alongside Walsh and Callahan to gather information and follow leads.
One of the unique aspects of In Pursuit is the show's focus on actively engaging the public in the investigation process. Walsh and his team regularly share information on their cases in the hopes of gathering tips and leads from viewers. In some cases, these tips have led to significant breakthroughs in ongoing investigations.
Throughout the series, In Pursuit explores a variety of criminal cases, from long-missing persons to violent criminals on the run. The show delves deep into the details of each case, often featuring interviews with family members of victims and law enforcement officials involved in the investigations.
In addition to the core content of each episode, In Pursuit also frequently features segments aimed at promoting various causes related to victims' rights and missing persons. For example, Callahan Walsh regularly hosts segments on child safety and provides advice on how to protect children from abduction and exploitation.
Overall, In Pursuit with John Walsh is a compelling and engaging series that offers a fresh take on true crime television. The show's focus on engaging the public in the investigation process sets it apart from other crime shows, and the depth of information provided on each case is both informative and emotionally gripping. Fans of true crime television will find plenty to enjoy in this powerful and thought-provoking series.
In Pursuit with John Walsh is a series that is currently running and has 4 seasons (61 episodes). The series first aired on January 16, 2019.