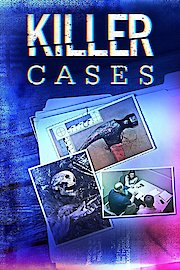 Watch Killer Cases
TV-14
2020
4 Seasons
Killer Cases is a true crime series that premiered on A&E in 2020. The show follows the investigations and legal proceedings surrounding some of the most heinous and fascinating murder cases in recent history. Each episode features in-depth interviews with law enforcement officials, forensic experts, and family members of the victims, providing a well-rounded view of the events leading up to the crime and the aftermath of its resolution.
The show is hosted by Brian Ross, a veteran journalist with over four decades of experience covering crime and justice issues. Ross is joined by two former law enforcement officials: Hamid Hunter, a retired New York City homicide detective, and Mike Downs, a former prosecutor and FBI special agent. Together, they provide insightful commentary and analysis of each case, drawing upon their wealth of experience to offer unique perspectives on the crimes and those involved.
One episode of Killer Cases explores the infamous disappearance of Susan Cox Powell, a 28-year-old mother of two from Utah. Powell vanished without a trace in December 2009, and despite numerous searches and extensive media coverage, her whereabouts remain unknown to this day. The episode delves into the suspicious behavior of Powell's husband, Josh, and his apparent involvement in her disappearance. Interviews with family members and law enforcement officials shed light on the complex dynamics of the Powell family and the multiple tragic events that followed in its wake.
Another episode focuses on the gruesome murder of Jennifer Meisch, a 35-year-old mother and nurse from Cincinnati. Meisch was found beaten to death in her own home in 2009, and police quickly identified her ex-husband, David, as the primary suspect. The episode examines the evidence against David, including his history of domestic violence and his suspicious behavior both before and after the murder. Interviews with Meisch's family members and friends provide a poignant tribute to her life and the impact her death had on those who knew her.
Throughout the series, Killer Cases features high-quality reenactments of the crimes and police investigations, giving viewers a visceral sense of the events as they unfolded. The show also incorporates archival news footage and other media coverage, providing a broader context for each case and highlighting the public's fascination with true crime stories.
What sets Killer Cases apart from other true crime shows is its emphasis on the legal process and the role of the justice system in bringing perpetrators to justice. Each episode follows the investigations from initial leads to eventual trials and convictions, highlighting the challenges faced by prosecutors and law enforcement officials in building a case against often elusive and dangerous suspects.
Overall, Killer Cases is a compelling and well-produced true crime series that will appeal to anyone with an interest in the darker side of human nature. The show's combination of expert analysis, firsthand interviews, and dramatic reenactments make for an engrossing viewing experience, while its focus on the legal process adds a unique perspective to each case. Whether you're a seasoned true crime aficionado or just dipping your toes into the genre, Killer Cases is definitely worth a watch.
Killer Cases is a series that is currently running and has 4 seasons (41 episodes). The series first aired on December 3, 2020.