Kuroko's Basketball
Kuroko's Basketball is a sports based Japanese anime series telling the story of a small, but skillful high school freshman Tetsuya Kuroko as he attempts to help his new school become national basketball champions. The television series is based on a manga series originally published in the Weekly Shonen Jump magazine in Japan written and created by Tadatoshi Fujimaki. The first season of Kuroko's Basketball consists of 25 episodes and was written by Noburo Takagi, and directed by Shunsuke Tada. The anime series was originally broadcast in 2012 following the completion of production by the Production I.G. studio.
The series focuses on the character of Tetsuya Kuroko, a freshman hoping to take part in the unheralded basketball program of Serin High School. Despite not being known by his new teammates Kuroko was the sixth member of the greatest middle school basketball team to play the sport in Japan, which became known as the Generation of Miracles. The other five members of Kuroko's middle school team have been recruited to private high schools around the country and must be defeated by Serin High School if they are to become national champions.
Kuroko must firstly become accepted by the other members of the team, including a member who has lived the majority of his life honing his skills in the U.S. Tetsuya Kuroko is smaller than the majority of his teammates, but is more skillful and is often laughed at by members of opposing teams before they play each other. Kuroko's Basketball shows the battles the members of the team face to break into the top teams in Japanese high school basketball; members of Serin High School must also learn to play as a team and help each other play to their strengths. As the season progresses Serin High School begin to be accepted as a serious threat to established high school basketball teams as they go on a long winning streak.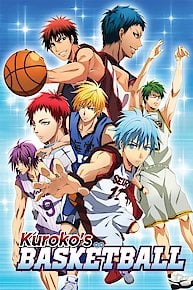 Kuroko's Basketball Full Episode Guide
The game has reached a fever pitch and some of the players are about to break. Can Kise keep up copy of Aomine or will Aomine finally be able to go all out.

Kise copy technique has lead Kaijo to take the early lead. With Touou keeping pace, Aomine is enjoying the pressure and is getting better each minute.

The training camp from hell has begun.

Kiyoshi has a plan for Kuroko and Kagami to get them over their slump. Kuroko, on the other hand, think he needs to be pulled.

The only thing you can do is pick yourself up and move on. Some can move on faster, while others wallow in their own darkness. A new beginning and an old friend is what needed to pick the team back up.

Aomie is unstoppable, but Serin hasn't given up yet. But with Kagami pulled in the last few minutes, can the team play without him?

In a few minutes of play, Aomie has demonstrated why he is a force to be reckoned with, with Kuroko benched in the 2nd half, will the team be able to hold Aomie off?

Even without Aomine, Touou Academy is dominating against Seirin. It is an uphill battle against Touou Academy individual style of play and the genius of Satsuki.

Kuroko explains part of the history of the "Generation of Miracle" to Kagami.

After an awkward dinner involving rival basketball teams, Kuroko happens upon a dog that looks just like him. The dog quickly gathered favor with everybody except for one.

With only 10 minutes left, Seirin is in trouble. Kagami has run out of gas and Midorima shows no sign of stopping. Kuroko is back in the game with a new, but dangerous pass.

The pressure of the game is causing Kagami skills to rapidly increase; he continues to score keeping Seirin in the game. But his thoughts are turning darker and self-serving.

Seirin is holding their own against Shutoku, but in the 2nd half Midorima and Takao?s abilities are unleashed, shutting down Seirin?s game completely.

Kuroko has rejoined the game in the final moments, but it seems that one of the players has him figured out. Seirin is playing hard, but if they win, will they have the strength to play a 2nd game?

Seirin?s game continues against Seiho with neither team giving up points. Kuroko and Kagami are pulled after the first quarter, to preserve their strength. Can their team mates bring home the victory?

Seirin first major game is against the invincible defense of Seiho. The unorthodox manor in the way Seiko moves is finally understood, but is it too late?

Serins first opponent in the inter-high tournament is Shinkyo high, a middle tier school until last year. With the addition of a two meter tall, 87 kilogram player from Senegal, Shinkyo is a new threat to Serins championship hopes.

The only way to stop Kise is to challenge him with a style he can't copy, Kurokos! The new offensive from Seirin is closing the point gap, until an injury might derail Serin?s chance at victory.

Seirin basketball club is playing a practice game at Kaijo High School, the school where Kise attends. After a display of power from Kagami, it forces the Kaijo coach to take Seirin serious.

Before anyone can become an official member of the Basketball Club, they first must do display courage. Afterwards, a surprising guest appears on the school grounds with a shocking offer.

While recruiting for the basketball club, the Seirin Private High school has managed to pick up some impressive players; a power house, former American player, and a member of the ?Generation of Miracles.?