Misfit Garage: Fired Up
The show features mechanics Tom Smith and Jordan Butler, who had previously appeared on the Discovery Network series "Fast N' Loud." After they were fired from that show's Gas Monkey Garage, they teamed up with fellow mechanics Thomas Weeks and Scot McMillan to form Fired Up Garage. Like other car-oriented shows, each episode includes a lot of scenes of the team working on vehicles. But because they're a new business, they don't have a lot of extra money for inventory. So at least a bit of each episode involves the team frantically trying to raise money to complete their next build.
Mondays 8:00 PM et/pt on Discovery Channel

2 Seasons,

6

Episodes

December 1, 2014

/

10

Cast:

Tom Smith, Thomas Weeks, Jordan Butler, Scot McMillan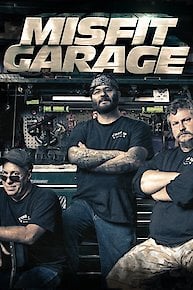 Misfit Garage: Fired Up Full Episode Guide
Episode

8

-

Klump and the Camino

Thomas and Tom find a first generation '59 Chevy El Camino; Thomas buys two more cars and surprises Klump with an offer to become a partner.

Episode

7

-

Booze in the Hood

Thomas buys a classic Cadillac from his high school sweetheart; the Misfits try to keep their feuding to a minimum so they can reach their deadline to complete the Moonshine Runner; with added facts and additional footage.

Episode

6

-

The Original Rum Runner

The '40 Ford Moonshine Runner job carries on. Also, Thomas purchases a '60 Cadillac from an old pal.
Episode

3

-

Flipped for a '69 Chevy Shortbed, Par...

The Misfits evaluate the situation with the demolished '69 Chevy Pickup. Jordan and Tom seek out a replacement cab, while Thomas tries to sell a '59 Oldsmobile to make up for unforeseen costs.

Episode

2

-

The '71 Holy Grail Cuda/Goodbye Littl...

While the guys work on tearing down the '71 Cuda, Scot and Austin arrive to see if they Fired Up guys need any assistance, since they've got two big projects on their hands. Thomas and Tom flip a '51 Chevy truck. Tom also says goodbye to Little Richard.

Episode

1

-

One, Nasty Nova Part I

With added facts, tweets, and bonus scenes - The Misfits go to work on a Chevy Nova. Plus, Thomas flips a Ford Fairlane to an old friend, and finds a fellow car enthusiast to buy a 1953 Mercury.