Money War
Money War is a South Korean-produced drama series based on the comic of the same name by Park In-kwon. It focuses on the many challenges faced by investment banker Geum Na-ra after his father commits suicide, his mother is hospitalized, and he is fired from his job. When his request for a loan from the bank is quickly denied, In-kwon decides to wage his own personal war against money and the current financial system, becoming a loan shark in the process.
1 Season,

20

Episodes

October 29, 2009

/

10

Cast:

Park Shin-yang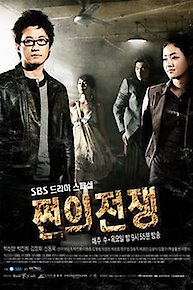 Money War Full Episode Guide
Episode

20

-

Money War 20

Episode

19

-

Money War 19

Episode

18

-

Money War 18

Geum Na Ra goes to pay off his debts. However, the debt collector is curious as to where he got his money. Geum Na Ra refuses to tell him where the money comes from. Lee Cha Yeon interrupts the conversion and begins asking Na Ra who the strange man is.

Episode

17

-

Money War 17

To protect Lee Cha Yeon, Geum Na Ra tells her that he no longer loves her. She is heartbroken and feels that she has been taken advantage of. While trying to get over Geum Na Ra, she finds herself a new job and possible new love interest. Geum Na Ra must win her back.

Episode

16

-

Money War 16

Episode

15

-

Money War 15

Geum Na Ra goes to Lee Cha Yeon's grandmother for help. Instead of handing him over the money, she want him to help her bring down Blue Angel. In the mist of their conversation, Lee Cha Yeon bursts in and demands answers. She knows that he broke off their relationship because of money.

Episode

14

-

Money War 14

Episode

13

-

Money War 13

Episode

12

-

Money War 12

Episode

11

-

Money War 11

Lee Cha Yeon is accused of stealing money from a shady debt collector. He tells her that she and Geum Na Ra are planning to steal everything that he owns. After failing to tell the man were Na Ra is, the man attacks her with a stun gun. Na Ra saves the day.

Episode

10

-

Money War 10

Cha-Yun finds out that her grandma, Ms. Lee, forced Na-Ra to break up with her and go into the illegal loan business. Na-Ra finally breaks the code to Mr. Ma's safe but he is almost caught.

Even though Eun-Jae is mad at her brother Na-Ra for entering the illegal loan business, she forgives him when he rescues her from working as a karaoke mistress. Na-Ra discovers that the man he is working for, Mr. Ma, is the man responsible for his father's death.

Cha-Yun enters the illegal loan business in an effort to help others in need rather than out of greed. Na-Ra pays Mr. Ma for Joo-Hee's debt so that she is now free from Mr. Ma.

In an effort to pay his own debts and the debts of Joo-Hee, Na Ra decides to take a job for Mr. Ma to collect a debt from gangster Kim Dong-Goo. Kim Dong-Goo kidnaps and beats Na-Ra for trying to collect the debt.

By now, Na-Ra is living on the streets as he spent all the money he borrowed on his mother's surgery. In order to rescue his sister from her own debt, Na-Ra agrees to work for the loan shark Dok Go-Chul.

Na-Ra's life falls apart when his father commits suicide over being in debt and Na-Ra has to find the money to pay for his mother's surgery. Na-Ra becomes greedy for money and breaks up with his girlfriend, Cha-Yun in his pursuit for riches.