New Street Law
The British legal drama New Street Law follows the personal lives and cases of two rival legal practices headed by former student and teacher characters Jack Roper and Laurence Scammel. Produced by Red Productions for the British network BBC One New Street Law features well known character actors John Hannah from The Mummy and Paul Freeman from the blockbuster movie Raiders of the Lost Ark. The show ran for two seasons and a total of 14 episodes between 2006 and 2007 before it was canceled by the BBC.
New Street Law begins with Jack Roper leaving the prosecution-based legal team headed by his former mentor Laurence Scammel to establish his own practice specializing in defending clients. Before leaving Scammel's legal practice Rope is offered a lucrative new job with a huge pay rise; despite the perks of the offer Roper follows his principles and establishes his own practice in the northern English city of Manchester. Throughout the two seasons Roper and Scammel clash as they face each other in various cases tried in the courts of Manchester. The majority of the legal stories are told through the discussions of the lawyers and their respective legal teams in their chambers; the show tries to portray the legal system in the U.K. in a realistic way by avoiding sensational acting and speeches in the courtroom scenes. Most cases are resolved within the confines of each 60 minute episode
In contrast to the legal stories, the personal lives of the lawyers are explored in a more sensational way with stories stretching over the two seasons of the show. Some well-known faces from British TV drama's and comedies are featured in the show, including recurring characters played by John Thompson and Lisa Faulkner.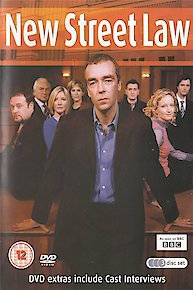 New Street Law Full Episode Guide
Episode

6

-

Series 2, Episode 6

Laura and Jack find themselves defending a man who is accused of killing a burglar in his house.

Episode

5

-

Series 2, Episode 5

When Al Ware doesn't show up for work, Jack decides to stop by his flat to see what the problem might be. What he finds is Al's partner Steve dead on the floor.

Episode

4

-

Series 2, Episode 4

Jack and Laura find themselves defending a man who is accused of a sexual attack on his daughter ten years previously. Frank and Honor are caught in a compromising position together.

Episode

3

-

Series 2, Episode 3

Jack and Frank find themselves battling in court when they both defend teenage girls accused of causing the death of a boy.

Episode

2

-

Series 2, Episode 2

Jack finds himself defending a violent gangster who is adamant that drugs found on him where planted. Jack has to work out who would want to set him up.

Episode

1

-

Series 2, Episode 1

Following his arrest for perverting the course of justice, Jack is released on police bail. Jack isn't impressed when his colleagues suggest he asks Frank Holcroft to help him.
A woman is accused of hiding evidence to protect her husnabd, who murdered a young boy.

Joe stands firm as he undertakes his first jury trial, defending a man suspected of destroying a speed camera - but resorts to desperate measures to ensure his client is let off. Jack and Annie represent a gang member accused of shooting and paralysing a police officer and face a tough cross-examination from Laurence. Meanwhile, Laura asks to move chambers, and Charlie finds comfort in a colleague.

Laura resigns from chambers when she learns that Laurence is keeping secrets from her about a medical negligence case. Joe's psychiatric patient struggles to cope with life outside the institution and gets arrested for criminal damage, while Jack represents a deluded Robbie Williams impersonator charged with social security fraud.

Jack and Charlie defend two police officers accused of torturing a terrorist suspect in custody, but it appears one of them may be hiding something. Joe attempts to prove his client, a psychiatric patient, has been misdiagnosed as mentally ill and tries to get him released from hospital, while Laurence is disappointed with the outcome of his application to become a High Court Judge.

Charlie takes on the high-profile case of a television presenter who is involved in a libel suit. Jack is unhappy about having to represent a man accused of physically abusing his son - prompting Honor to resign from prosecuting - and it isn't long before it's obvious there is more to the trial than meets the eye.

Jack and Annie defend a man accused of murdering his wife, but problems arise when prosecutor Laurence discovers foul play. Charlie takes on the case of the suspected killer's sister, who is battling her brother's in-laws for custody of his child, and Joe helps defend a nurse whose employers believe she lied to them about her qualifications.
If You Like New Street Law, Then Try...