Orange Marmalade
This Korean fantasy series is set in a world in which vampires, who no longer thirst for human blood, are the targets of bullying and discrimination. That causes complication when a young vampire-in-hiding falls for the most popular boy in her high school. The 12-episode live-action series, which was based on an animated series, aired on the Korean Broadcasting System in 2015.
Friday 10:35 PM et/pt on KBS2

1 Season,

12

Episodes

May 5, 2015

/

10

Cast:

Seol-Hyun Kim, Jin-gu Yeo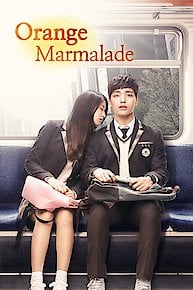 Orange Marmalade Full Episode Guide
Jae Min becomes Ma Ri's monitor in school to reassure the parents of other students and to help with his amnesia.

Back in modern time, Jae Min wakes up from his accident with selective amnesia. Ma Ri volunteers for the Coexistence Project.

Jae Min finds out that Ma Ri is a vampire, and Shi Hoo has been turned into one too. Hwasawon kidnaps the Queen of Joseon.

A battle between the bloodsuckers and the Eunhyeolsa leads Shi Hoo to be bitten. Jae Min makes a choice between friendship and love.

The death of a relative of the royal family leads to the organization of secret vampire hunters. Meanwhile, Jae Min chooses between love and family.

While Jae Min struggles with his feelings for Ma Ri, Jae Min's bride-to-be patronizes Hwasawon, an underground vampire beauty salon, and makes a deal with Wonsangu.

In the Joseon Dynasty, Jae Min, a scholar and the disappointment of his military family, meets Ma Ri, the daughter of a butcher and a vampire.

After Jae Min learns of Shi Hoo's secret, prompting Shi Hoo's disappearance, Ma Ri finds it hard to hide her vampirism when a series of accidents happen.

As Ma Ri's feelings for Jae Min grow deeper, Jae Min encourages Ma Ri to form a band with him.

A new transfer student, Han Shi Hoo, shows up at Ma Ri's high school. He reveals that he is a vampire and what the mysterious connection to Jung Jae Min is.

Baek Ma Ri is a high school transfer student with a big secret: she's a vampire. But when she starts to fall for class president Jung Jae Min, things get a little more complicated for her.