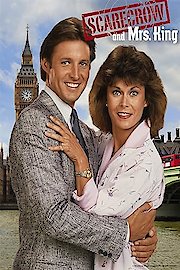 Watch Scarecrow and Mrs. King
TV-14
1983
4 Seasons
Scarecrow and Mrs. King is an American television series that aired on CBS from 1983 to 1987. The show stars Kate Jackson as Amanda King, a divorced mother of two who works as a housewife in Washington D.C. In the pilot episode, Amanda unknowingly becomes involved with a spy named Lee Stetson, played by Bruce Boxleitner, who uses the name "Scarecrow" as his code name. After Scarecrow is injured on a mission, he enlists Amanda's help in completing the task. She proves herself to be a valuable asset, and Scarecrow decides to recruit her as a full-time agent in the spy organization, the Agency.
The bulk of the series focuses on Scarecrow and Mrs. King working together on various espionage missions. Amanda's ability to blend into various social circles, combined with Scarecrow's James Bond-esque skills and gadgets, makes for an entertaining pairing. While there is a sense of danger involved in their missions, the show never takes itself too seriously, often incorporating humor and lighthearted moments.
One recurring theme throughout the show is the relationship between Scarecrow and Mrs. King. While the two start out as colleagues, it becomes clear that there is an underlying romantic tension between them. However, there are obstacles in the way. Scarecrow is initially reluctant to pursue a relationship due to the dangerous nature of his work, and Amanda is still dealing with the aftermath of her divorce. As the series progresses, the two grow closer, but their relationship is always on the backburner to the missions at hand.
In addition to the spy missions, there are also several secondary characters who add to the overall charm of the show. Amanda's mother, Dotty, is a frequent presence in her life, often getting involved in the spy shenanigans herself. The two agents' boss, Billy Melrose, is a gruff but lovable presence. Finally, there is the character of Francine Desmond, Scarecrow's fellow agent who initially resents Amanda's involvement in their missions, but eventually grows to become her friend.
The show also has a distinct 1980s flair. With its bright colors, big hair, and synthesizer-heavy score, Scarecrow and Mrs. King is very much a product of its time. However, this is part of what makes it so charming. The show never takes itself too seriously, and the overall tone is one of fun and adventure.
Overall, Scarecrow and Mrs. King is a delightful spy-themed show that offers plenty of laughs and exciting moments. While the overarching plotlines are enjoyable, it is the chemistry between the two main characters that make the show truly memorable. Without a doubt, Scarecrow and Mrs. King is a classic example of 1980s television.
Scarecrow and Mrs. King is a series that is currently running and has 4 seasons (88 episodes). The series first aired on October 3, 1983.