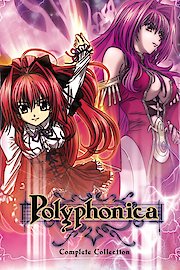 Watch Shinkyoku Soukai Polyphonica
Shinkyoku Soukai Polyphonica is an anime television series from TBS Japan that was first aired in 2007. The series is based on a novel written by Ichiro Sakaki and is directed by Junichi Watanabe. The show is set in a fictional world where humans and spirits coexist.
The story revolves around Phoron Tatara, a young man who possesses the ability to summon spirits using musical instruments. He is a Dantist, a person who can communicate with spirits and help them resolve their problems. Together with his spirit companion, Corticarte Apa Lagranges, Phoron helps out people who are troubled by the presence of spirits in their life.
The show is set in a city called Polyphonica, which is named after a musical instrument that is said to have the power to summon spirits. The city is divided into four districts, each of which is governed by a powerful spirit called a Laude. The Laude are responsible for maintaining the balance between the human world and the spirit world.
Phoron and Corticarte get involved in various cases where they have to help people who are affected by malevolent spirits. They face challenges and obstacles along the way, but their determination and strength of spirit help them overcome all of these challenges.
Apart from Phoron and Corticarte, the show also features other characters who play important roles in the story. One such character is Renbart L'orthographe, a fellow Dantist who is Phoron's senior. Renbart is a serious person who takes his work very seriously and is always trying to improve his skills as a Dantist.
Another important character in the story is Prinesica Yugiri, a princess from one of the districts of Polyphonica. Prinesica is a kind-hearted person who cares deeply about the people around her. She shares a close bond with Phoron and Corticarte and often seeks their help in dealing with issues related to spirits.
The show is known for its beautiful animation and music. The musical instruments used by the characters are beautifully crafted and are an integral part of the show's storytelling. The show's soundtrack features a mix of classical and modern music, which adds to the overall ambiance of the show.
In conclusion, Shinkyoku Soukai Polyphonica is an anime that combines elements of fantasy, music, and action. Its unique premise and well-crafted characters make it an enjoyable watch for fans of the genre. The show's beautiful animation and music elevate its storytelling, making it a visual and auditory treat.