The Ant & the Aardvark
The Ant & The Aardvark was a companion cartoon to the original Pink Panther cartoons. Henry Mancini wrote the score, and the same team of animators worked on this project that showed an aardvark giving chase to a lone ant who has eluded him for years. The sensibility of the ant manages to keep him out of the trouble, and the aardvark uses every scheme he can think of to capture the ant.
1 Season,

17

Episodes

March 6, 1969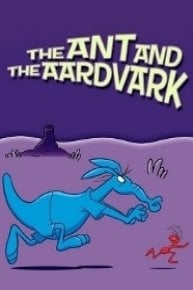 The Ant & the Aardvark Full Episode Guide
Episode

17

-

From Bed to Worst

While in the hospital, the Aardvark tries to catch the Ant in his room.

Episode

16

-

Rough Brunch

The Aardvark irritates a termite.

Episode

15

-

Don't Hustle An Ant with Muscle

The Ant grows muscles after taking vitamins.

Episode

14

-

The Froze Nose Knows

Aardvark tries to catch the Ant during winter time.

The Ant's "lodge brothers" come to his rescue.

Episode

12

-

Science Friction

A scientist needs to experiment.

Episode

11

-

Ants in the Pantry

The Aardvark takes over an exterminator's job.

The Aardvark fights with The Green Aardvark.

Episode

9

-

Scratch a Tiger

Episode

8

-

Isle of Caprice

A shipwrecked Aardvark tries to get to an island that's full of ants.

The Ant and Aardvark play a tricky game of cat and mouse.

Episode

6

-

Never Bug an Ant

The Aardvark struggles to finally catch the Ant.

Episode

5

-

Technology, Phooey

The Aardvark uses the power of a computer to formulate a plan.

Episode

4

-

I've Got Ants in My Plans

Episode

3

-

The Ant From Uncle

Aardvark invites the Ant to come to a relaxation club.

Episode

2

-

Hasty But Tasty

The Aardvark tries a product called "Instant Hole."

Episode

1

-

The Ant And The Aardvark

The Ant spots a picnic and goes there to have some relaxation.
If You Like The Ant & the Aardvark, Then Try...