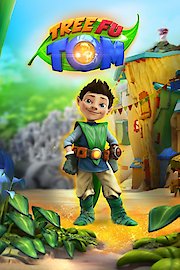 Watch Tree Fu Tom
TV-Y
2013
5 Seasons
Tree Fu Tom is a British children's television show that premiered on the BBC in 2012. The show follows the magical adventures of a young boy named Tom who, with the help of his friends, can transform into a superhero and enter the enchanted world of Treetopolis. The show's protagonist, Tom, is a likable and energetic eight-year-old boy who possesses a special skill - he can do 'Tree Fu' moves that are powered by his own imagination. These moves allow Tom to enter the magical world of Treetopolis where he can help his friends and solve problems.
Tom lives in a treehouse near the woods with his best friend, Twigs, who is a sapling. Twigs is a quirky and fun character who is always eager to help Tom on his adventures. Together, they are often called upon to help their friends in Treetopolis. In the enchanted world, they meet characters such as Ariela, Squirmtum, Zigzoo, and others who help Tom save the day.
The primary objective of Tree Fu Tom is to create an immersive and interactive experience for young viewers. The show uses a combination of CGI animation and live-action footage, which allows children to feel like they are a part of the action. The characters address the viewers directly, encouraging them to participate in fun activities like dancing and Tree Fu moves.
One of the unique aspects of Tree Fu Tom is its use of 'movement magic.' Each episode of the show features exciting action sequences that involve Tom performing Tree Fu moves that help in navigating the enchanted landscape or defeating the show's antagonists. These movements are designed to encourage young viewers to replicate them, promoting physical activity and healthy living.
The show is also educational in nature, as each episode teaches children valuable life lessons like the importance of teamwork, perseverance, and problem-solving. The world of Treetopolis is filled with enchanting creatures and interesting characters, making it a fun and engaging experience for children.
The show has been enjoyed by children and parents alike for its creativity, imagination, and fun. It received positive reviews for its ability to blend educational messages with entertaining content suitable for young viewers.
In conclusion, Tree Fu Tom is an exciting and engaging children's show that combines fun animation with live-action footage, movement magic, and valuable life lessons. With its charming and loveable characters, it has captured the hearts of children and parents alike.
Tree Fu Tom is a series that is currently running and has 5 seasons (77 episodes). The series first aired on April 8, 2013.