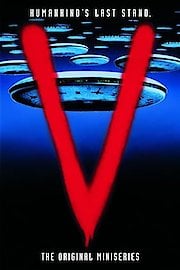 Watch V: The Original Mini Series
Unrated
1983
1 Season
During the early 80s, one of the most iconic science fiction TV shows of all times was introduced to the world, V: The Original Mini Series. Produced by Warner Bros., V quickly captured the hearts of viewers around the globe with its enthralling plot and great performances by its star-studded cast.
The plot revolves around humans and their first contact with an alien race known as the Visitors. On the surface, the Visitors appear to be friendly and well-meaning, claiming to be on a mission of exploration and peace. However, as their true intent gradually unravels over the course of the series, it becomes clear that the Visitors are much more than they appear to be.
The show's protagonist, a photographer named Mike Donovan, is played by Marc Singer. Early on in the series, Donovan shows his unwillingness to believe in the good intentions of the Visitors, and quickly becomes a leading figure in the resistance movement against them. Alongside Donovan is Juliette 'J' Parrish, played by Faye Grant, who becomes his love interest despite having vastly different opinions on how to deal with the Visitors.
The Visitors are led by one of the most iconic villains of 80s TV, Diana, played by Jane Badler. An extraterrestrial beauty with a sharp tongue and an ingrained sense of superiority, Diana exudes power and charm, which makes her a formidable opponent. She is assisted by her equally conniving second-in-command, the reptilian alien, Phillip, played by Richard Herd.
Other notable characters include Willie, played by Robert Englund, best known for his iconic role in A Nightmare on Elm Street, who is a friendly alien that sympathizes with humans and becomes a key member of the resistance. Also, Bernard Musgrove, a businessman played by Michael Wright, who finds himself caught up in the Visitor's world and must make tough decisions to survive.
With its innovative story and top-notch visuals, V: The Original Mini Series was a massive hit, leading to the creation of several sequels and spin-offs. However, it is the original series from 1983 that remains a timeless classic, capturing the imagination and hearts of viewers around the globe.
The show's epic story of a battle between humans and an alien race, along with its message of the dangers of blind faith and unquestioning obedience, continues to resonate with audiences. At its core, V is an unforgettable science fiction masterpiece that combines sensational storytelling, strong performances, and thrilling action into a unforgettable series that remains a beloved classic to this day.
V: The Original Mini Series is a series that is currently running and has 1 seasons (5 episodes). The series first aired on May 1, 1983.