Wilderness Vet
Wilderness Vet: Hosted by renowned veterinarian Dr. Michelle Oakley, "Wilderness Vet" features compelling stories from one of the most rugged areas on the planet, the Yukon. Dr. Oakley travels to homes, farms and wildlife preserves across the Yukon to help animals in need. "Wilderness Vet" will bring viewers closer than ever before to wild animals in their native habitats by showcasing the hard work and dedication involved in their rescue and rehabilitation.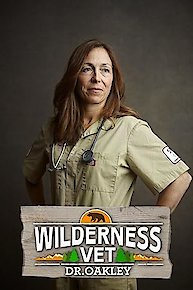 Wilderness Vet Full Episode Guide
Episode

26

-

A New Chapter

Dr. Oakley sees new clients, challenges and opportunities every year in her job as a vet. But with her oldest daughter graduating from school, Dr. Oakley has to face a new chapter in her job as a parent.

Episode

25

-

Second Chances

Dr. Oakley's job has plenty of ups and downs. While some clients require only simple care, others can be in dire straits. But losing hope isn't something Dr. Oakley knows how to do, because saving her patients is the ultimate reward.

Episode

24

-

Fierce and Furriest

Whether small, medium, or large, there are plenty of fierce creatures to be found in the Yukon. And although Dr. Oakley recognizes some of her patients may be dangerous, that doesn't stop this doctor from doing her job.

Episode

23

-

Search Party

For animals living in the Yukon, there are thousands of square miles to call home. This can pose a serious challenge for Dr. Oakley when she goes out into the field. Because sometimes, before she can help a creature in need, she first has to find them first.

Episode

22

-

Always on Call

As a wildlife vet, being prepared for anything is all part of the job and here in the Yukon, there's never a shortage of creatures in need. Fortunately, these animals have Dr. Oakley, a veterinarian who is always ready to answer the call, no matter the time or the place.

Episode

21

-

Far and Wide

The Yukon is a large place, which for a veterinarian means having clients both near and far. But Dr. Oakley is one dedicated doc and will go to extreme lengths and distances if it means helping her patients.

Living in the Yukon means living amongst beautiful landscapes, amazing wildlife, and some of the harshest weather conditions in the world and, out here, when winter hits there's no such thing as a Snow Day. Luckily, Dr. Oakley doesn't mind bundling up and heading out into the cold to help any animal that needs her.

Episode

19

-

Quality Time

Being the only wildlife vet for hundreds of miles means always being on the road, and for Dr. Oakley, that much time away from home can be difficult. So, in order to see her family, she often likes to recruit them to help out with her appointments.

Episode

18

-

Claws, Paws, and Hooves

Having a diversity of clients is what Dr. Oakley loves most about her job. She can be playing with puppies one minute, out in the field with wild wolverines the next, or simply working with pigs back at her office.

With so many species of deer roaming the Yukon, no two encounters are ever the same. But no matter their size, age or color, these creatures can always rely on Dr. Oakley to be there when they need her.

In the Yukon, large animals aren't the only ones to require Dr. Oakley's expertise. Little creatures depend on her as well. But don't let their size fool you, because the tiniest patients tend to have the largest personalities.

Episode

15

-

Dangerous Jobs

It's birthing season in the Yukon, and that means Dr. Oakley's phone is ringing off the hook with calls asking for assistance with pregnant pets. For Dr. Oakley, being there for the first moments of a new animal's life is the greatest joy she gets to experience in her career.

Episode

13

-

Farmyard Friends

Farms in the Yukon offer a variety of patients for Dr. Oakley, and that means every day offers new challenges. From field surgeries to physical exams, these farm calls keep Dr. Oakley busy, and she knows the animals are relying on her to keep them happy and healthy.

Dogs and pigs are considered loyal pets, and that's why Dr. Oakley is so passionate about helping them. Whether it's performing regular checkups or answering emergency calls, she can send her patients home wagging their tails or squealing with delight.

Episode

11

-

Surgeon on Call

Performing surgery is always a worst-case scenario, but sometimes it's unavoidable. So when a rat with a mysterious lump and a horse with a fractured leg need her help, Dr. Oakley puts on her surgical mask and learns no two surgeries are ever the same.

Episode

10

-

Fur the Love of Animals

Working with wild animals can be dangerous, and Dr. Oakley never hesitates to jump into action when these creatures need help. But when her patients' unpredictable behavior puts her medical staff at risk, she has to think fast to get them out of danger.

Episode

9

-

Bovine University

When cows are in trouble, Dr. Oakley is there on the double. From newly born calves to large herds of cattle, there's no lengths she won't go to in order to help these amazing creatures.

Episode

8

-

Call of the Wild

The most rewarding part of Dr. Oakley's job is being out in the field, working with wild animals. That's why when calls come in asking for help with wildlife projects, she jumps at the opportunity to get up close and personal with some amazing creatur

Episode

7

-

Icons of the Yukon

Having lived in the Yukon for years, Dr. Oakley has seen many unique and beautiful animals that call it home - and she never takes for granted the significance these creatures hold for the heritage of this wild place.

Episode

6

-

Living with Livestock

In the Yukon, farms are a familiar sight - and for Dr. Oakley that means plenty of livestock in need of veterinary care. From big boars and baby cows, to even a few alpaca, Dr. Oakley knows these animals and the farmers who care for them depend on her.

Episode

5

-

Tiny Family Members

Pets come in every shape and size, so Dr. Oakley sees patients large and small. From treating sick rats and aging parrots to examining pregnant cats and chickens, she has to think big to save these tiny creatures.

Episode

4

-

Curing Canines

Dr. Oakley works with dogs every day and is constantly reminded why they're considered man's best friend. That's why whenever one of these beloved pets is in trouble, this doctor doesn't stop fighting to help.

Episode

3

-

Large and in Charge

When you have patients like brown bears and wood bison, both of which have unpredictable and aggressive behavior, Dr. Oakley knows you always have to be on high alert. There's no room for error.

To refresh her education on this subject of equine medicine, Dr. Oakley is heading back to her alma mater to help one of the professors perform surgery on an injured horse, so she can better help her patients.

Episode

1

-

One Tough Doctor

A hectic schedule is a regular part of the job for Dr. Oakley, but this week is sure to push her to her limits. When her daughter Maya applies to an out-of-town school, Dr. Oakley must find a way cope while still caring for her many patients.
Episode

26

-

Unique Family Members

Whether it's a horse, pig or donkey, pets are loved by their owners - and Dr. Oakley will give her all to keep these pets happy and healthy.

Episode

25

-

Dr. Do-A-Lot

Dr. Oakley heads out into the field to work with some of the most iconic animals of the Yukon.

Episode

24

-

When Doctor Becomes Patient

After a full week of treating other people's pets, the tables turn when Dr. Oakley's dog, Daisy, needs an operation.

Episode

23

-

Maintenance Day

For Dr. Oakley, some days are spent performing life-saving surgeries, others involve helping with conservation projects, but most of her days consist of routine exams.

Episode

22

-

Earning Their Wings

Dr. Oakley finds great joy in rehabilitating her feathered patients, from majestic eagles and owls to beautiful ducks and ravens.

Episode

21

-

Animals of the Yukon

Dr. Oakley knows that the bigger the animal is, the bigger the job will be - and in the Yukon, that means caribou, bison and musk oxen.

Episode

20

-

Family Matters

When Dr. Oakley's oldest daughter leaves home for a wilderness survival camp, she feels inspired to spend extra time with family.

Episode

19

-

All Roads Lead Home

Being on the road can make even the most dedicated veterinarian homesick, but when Dr. Oakley finally gets what she wants, she's reminded that a vet's job is never done.

Episode

18

-

Big Animals, Big Problems

Although performing exams on large animals can be dangerous, Dr. Oakley is determined to help every one of them.

Episode

17

-

Animal Ambassadors

Dr. Oakley is making her rounds analyzing the many one-of-a-kind creatures that call zoos and wildlife organizations home. These places allow people to get up close and find out about different species, so keeping these animal ambassadors in prime health is always a top priority.

Episode

16

-

A Vet for All Pets

Whether it's a cat, dog, or pig every family adores their pets. So whenever one of these family members is in need of a visit to the vet, Dr. Oakley works continually to make sure every one of them goes home happy and well.

Episode

15

-

1 Hoof, 2 Hooves, 3 Hooves, 4

Dr. Oakley is no outsider to working with big animals. From giving exams to feisty sheep, to assisting a donkey with an infestation, to rescuing a Caribou with a problematic limp, it's no wonder she's one of the greates veterinarians in the Yukon.

Episode

14

-

When Mom's Away

While Dr. Oakley is wandering, her husband Shane uses the chance to teach their daughters some important techniques for living in the Yukon.

Episode

13

-

The Effects of Infections

When some of Dr. Oakley's patients develop infections, she'll have to use every trick in the book to help them.

Episode

12

-

The Great Cat Corral

Dr. Oakley deals with a feline frenzy while examining some very wild and very large cats, including jaguars, leopards and cheetahs - but a few housecats present puzzling problems as well.

Episode

11

-

Horsing Around

Dr. Oakley joins a team attempting to round up wild horses in the Yukon and save them from danger.

Episode

10

-

Dog Day Afternoon

Dr. Oakley is brought in to help the medical team caring for sled dogs, some of the toughest animals in the sporting world.

Episode

9

-

Birds of a Feather

Dr. Oakley is on a mission to return some of the wild's fiercest predators back to the skies - but will these animals be able to overcome their major injuries?

Episode

8

-

One Wild Birthday

With Dr. Oakley's birthday approaching, her family is planning the perfect surprise. But with a list of clients like a sick yak, a pack of sled dogs and two orphaned eaglets to attend to, how will the Oakleys find time to celebrate?

Episode

7

-

Set Loose a Moose

When Dr. Oakley gets a call about two moose calves that are ready to be released, she and her oldest daughters offer to lend a helping hand.

Episode

6

-

The Doctor Is in

Dr. Oakley handles everything from simple check-ups to emergency situations - and she needs to be prepared for any patient that walks through the door.

Episode

5

-

Bundles of Joy

When it comes to animals, Dr. Oakley will do anything to protect their offspring; whether it's caring for a soon-to-be caribou mother or a litter of lynx kittens, she'll make sure the next generation of wildlife grows up safe and healthy.

Episode

4

-

Dr. Oakley Junior

Dr. Oakley plans a trip to show her daughter what it takes to be a wildlife vet. Together, they'll examine a variety of animals including a jaguar, a cheetah, a bear and some bighorn sheep.

Episode

3

-

A Day With the Doc

For Dr. Oakley no two days are the same, and being the only all-species vet for hundreds of square miles brings in some interesting cases. With patients like alpaca, reindeer and moose, it's easy to see why being a wilderness vet is no walk in the park.

Episode

2

-

A ZOO-pendous Trip

Episode

1

-

The Great Musk-Ox Roundup