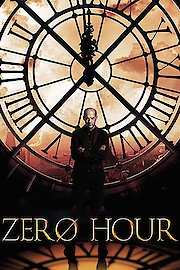 Watch Zero Hour
TV-14
2013
3 Seasons
In 2013, ABC premiered a new drama series called Zero Hour. The show starred Anthony Edwards as Hank Galliston, the publisher of a popular paranormal-themed magazine called Modern Skeptic. When his wife, Laila (played by Jacinda Barrett) is suddenly abducted, Hank finds himself thrust into a dangerous world of ancient conspiracies and secret organizations.
At the heart of the mystery is a valuable artifact known as the "clock of maya," which claims to hold the key to end-of-the-world prophecies. As Hank and his team delve deeper into the clock's history and mythology, they come up against a host of eccentric characters, including a wealthy industrialist (played by John Glover), a former Nazi scientist (played by Michael Nyqvist), and a mysterious woman named White Vincent (played by Michael Nyqvist) who seems to know more about the clock than anyone else.
With the help of his tech-savvy assistant, Rachel (played by Addison Timlin), and a tough-as-nails government agent named Beck (played by Carmen Ejogo), Hank races against time to unravel the clock's secrets and rescue his wife. Along the way, he must confront his own ideas about what is possible and impossible, as well as his own dark past.
Zero Hour was created by Paul Scheuring, who was behind the popular suspense-thriller series Prison Break. The show was initially well-received by critics, who praised its high-concept storylines and the strong performances of its cast. However, the show struggled to find a broad audience, and ABC ultimately cancelled it after airing only three episodes.
Despite its brief run, Zero Hour has developed a cult following among fans of science fiction and conspiracy theory-themed shows. Many viewers have praised its innovative storytelling and visual style, as well as its ambitious attempts to tackle themes of faith, science, and the unknown.
Anthony Edwards, who is best known for his role as Dr. Mark Greene on the long-running medical drama ER, brings a certain gravitas to the role of Hank Galliston. He plays the character as a mix of investigative journalist and reluctant hero, a man who is forced to confront his own beliefs and fears when faced with the impossible.
Carmen Ejogo, who went on to star in the hit series True Detective, gives a standout performance as Beck, a no-nonsense government agent who is initially skeptical of Hank's theories. She brings a tough, no-nonsense energy to the role, and serves as a great foil for Edwards' more introspective character.
Scott Michael Foster, who had previously appeared in shows like Greek and Californication, is also excellent as Arron, a computer expert who helps Hank and Rachel decipher the clock's secrets. He brings a geeky, likable charm to the role, and serves as the show's comic relief in some of its more tense moments.
Overall, Zero Hour is a complex and intriguing series that was sadly cut short before it could fully explore its many mysteries. However, for fans of conspiracy theories and high-concept thrillers, it remains a fascinating and entertaining watch.
Zero Hour is a series that is currently running and has 3 seasons (25 episodes). The series first aired on February 14, 2013.