Watch Cover Me
Series Length:
1 Season,

25

Episodes
Description:
This USA Network original series is a one hour drama based on the real life adventures of an undercover FBI family. In order to protect his family, Danny Arno chooses to include his family in his work for the FBI, rather than hide it from them.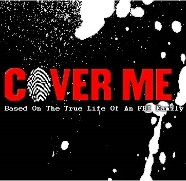 Cover Me

Full Episode Guide
Episode 25 - Viva Zapatos

After his team stops at a diner where he meets Celeste, Cuban soccer player Lazaro decides to defect to the U.S. The FBI asks Danny to keep Lazaro at the Arno house for a few days to find out if he's really a defector or, perhaps, a terrorist.

When a murder occurs at the children's school, Danny masquerades as a substitute teacher in order to investigate.

When Celeste and Ruby attend a rave party, a mischievous Chance decides to plant a bug on an unsuspecting Ruby. The microphone picks up a conversation about drugs at the party, and Danny and Barbara immediately leave to retrieve their kids. After arriving at the rave, they hunt for Celeste and Ruby, and Barbara decides to check the ladies room. Seconds later, Danny hears two gunshots, and rushes into the bathroom to find Barbara on the floor, critically wounded-and a gunman (photo attached) pointing a gun at him. Now Barbara is in the hospital, Danny is under investigation for wrongful homicide, and the cops may be the reason behind why any of it happened in the first place. Can Danny clear his name-and will Barbara recover from her injuries?

The FBI assigns Danny to find a young woman in rural Utah who is missing and feared dead. She was part of a polygamist community, where men take multiple wives and everyone avoids contact with the outside world. To infiltrate the clan, the Arnos pose as a polygamist family, but Celeste is none to happy to be Danny's second wife. Eli, the oldest son in the clan (photo attached) falls in love with Ruby, who tries to ditch him one night and stumbles, literally, over a dead body by the side of the river. It isn't the girl the Arnos are looking for, but she appears to have been severely beaten. Barbara then discovers a diary that talks about a shed where disobedient girls are taken to be punished. Can the Arnos discover what's going on before there are any more deaths -- and before Ruby is forced into an arranged marriage with Eli?2

Episode 21 - Home for the Holidays

Episode 20 - Stings Like a Bee

Episode 19 - Borderline Normal

Episode 18 - Vegas Mother's Day, Part 2

Episode 17 - Vegas Mother's Day, Part 1

Episode 15 - The Hit Parade

Episode 14 - Killing Me Softly

Episode 13 - In Plain Sight

Episode 12 - The Book of Danny

Episode 8 - The Fever Flip

Episode 7 - Our Mister Brooks

Episode 5 - Perfect Frank

Episode 4 - Where Have You Gone, Sandy Koufax?

Episode 3 - Domestic Terrorism

Episode 1 - Just Act Normal
If You Like Cover Me, Then Try...