Watch Diagnosis: Dead or Alive
Diagnosis Dead or Alive is a Discovery Health channel original series. Each episode is approximately one hour. This is a documentary-style drama series. Due to medical content and procedures, this program may not be suitable for some viewers. With each episode of Diagnosis: Dead or Alive, two different medical cases are explored. Using interviews, actors and actual medical footage, the viewer is shown the medical symptoms of a patient. The symptoms can range from common ailments to the strange and unusual. After seeking conventional medical treatment, the patient still doesn't find relief for their illness.
Rushing against time, a network of doctors and specialists try administering a number of tests to see if they can diagnosis the problem. In most cases a diagnosis is hard to find and the patient has only a limited amount of time before the illness takes his life.
At the end of each segment, viewers find out the diagnosis is for the patient's illness. Viewers then are shown what procedures are taken to help make the patient better. After the treatment or treatments have been followed, viewers finally find out if the patient survived the illness or if it took his life.
Some of the illnesses and diseases discussed in this program include parasites and rare auto immune diseases. Some patients are victims of poisoning from uncooked foods or having caught a rare disorder from traveling to foreign countries.
Interviews with the family and friends give no indication as to if the patient survives or not before the end of the episode. Doctors' interviews discuss each case in depth and explain why it took so long for the initial diagnosis and subsequent treatment. The viewer is left to guess the outcome of the episode until the very end.
Monday 10:00 PM et/pt on Discovery Health

1 Season,

5

Episodes - Currently Airing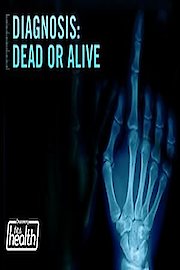 Diagnosis: Dead or Alive

Full Episode Guide
Episode

4

-

Kurt and Jessie

A man suffers from lumps on his body and a young woman's cheeks go numb.

Episode

3

-

Jordan and Tannis

A man who has bleeding gums and a woman with high blood pressure and headaches are examined in this episode.

Episode

2

-

Bonnie and Shannon

A woman who faints from a high fever and a woman who loses control of the right side of her body are examined in this episode.

Episode

1

-

Jamie and David