Watch Ice Brigade
A 2011 reality television program, Ice Brigade follows the exploits of a group of young climbers who are attempting to scale the face of a mountain in Alaska. The team is a diverse group, but if they can pool their efforts together, it will mean success for the entire team. Cory is an insurance adjuster who has begun to get active in the outdoors with the help of his wife, Kendra. Francine is a homemaker who is climbing in the memory of her deceased son, who was an active climber before his passing.
Thursdays at 10:00 pm on Food Network

1 Season,

7

Episodes - New Series

March 3, 2011

10

/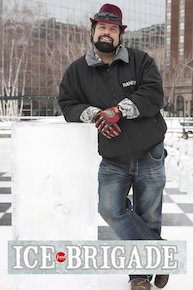 Ice Brigade

Full Episode Guide
Episode

7

-

Checkmate Me, I Prank You

The Ice Brigade creates a life-size chessboard for downtown Grand Rapids complete with chess pieces. Then the crew helps someone prank a colleague by switching out regular office furniture and replacing it with ice furniture.

Episode

6

-

Strike and a Hole in One

Randy Finch and the Ice Brigade crew create a pinball machine for Stella's Lounge. An ice festival in Rockford challenges the Grand Rapids crew to design a 'Rube Goldberg-inspired' putt-putt hole. The Ice Brigade makes an ice-bowling alley for a backyard bash.

The Ice Brigade attempts to create casino tables for Turtle Creek Casino in Traverse City, MI. The gaming setup consists of a craps, blackjack, and roulette table complete with poker chips and dice made out of ice. In Niles, MI, the team invents a carousel sculpted from ice at the annual Hunter Ice Festival.

Episode

4

-

Han Solo, Polar Derby

Randy and the crew go ice sledding, create a sculpture of Han Solo for Star Wars night for the Muskegon Lumberjack's hockey team, and design an authentic air hockey table for a birthday party.

Episode

3

-

One Piano Key at the Time
If You Like Ice Brigade, Then Try...