Watch Luke's Parental Advisory
Luke's Parental Advisory is a reality show starring Luke Campbell, member of the Hip Hop group 2 Live Crew, and his family on VH1 in 2008. The show lasted two seasons. The focus on the show was how the rapper dealt with his family and his Hip Hop label Luke Entertainment Group in Miami. The show had good ratings, but wasn't up for renewal for a third season. The show overall show the audience a different side of the raunchy Hip Hop legend that the public have seen. Luke's Parental Advisory is a good reality show with great family values.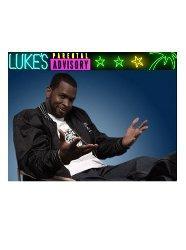 Luke's Parental Advisory

Full Episode Guide
Episode 8 - Love You Long Time

As the finale begins, Luke and Kristin's wedding day has arrived. But first he must deal with the big trouble in which Lacresha and Luther have gotten into.

Episode 7 - Baby Mama Drama

Luke and Lacresha inform Luke Jr. that he has a half-brother who is 2 1/2 years old. He attempts to bond with his new found sibling during a weekend visit.

Episode 6 - Outlaw Meets Inlaw

Luke and Kristin travel to her hometown, Dallas, to plan their wedding.

Episode 5 - Revenge of the Bachelor Party

Episode 4 - Family Business

Episode 3 - The Playa Gene

Episode 2 - What Daddy Doesn't Know
If You Like Luke's Parental Advisory, Then Try...