Watch Madventures
The #1 TV show in Finland is coming to the Travel Channel. Madventures is on a quest to explore the most insane destinations in the world! Riku and Tunna are two fearless Finns who cross the globe carrying nothing but backpacks and cameras from the Himalayas to the African deserts, from Tokyo to Polynesia. Riku and Tunna's adventures include meeting the world's last cannibals in Papua, uncovering the illegal bazooka business in Cambodia and doing rock-paper-scissors to see who has to eat monkey brains straight from the skull in the Amazon.
Monday 10:30 PM et/pt on Travel Channel

2 Seasons,

9

Episodes - Canceled/Ended

9.5/10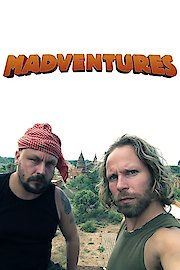 Madventures

Full Episode Guide
The duo head travel into Yemen's dangerous desert.

Episode 7 - Papua New Guinea

Riku and Tunna find themselves in the jungles of Papua New Guinea.

The boys take a trip to the former Soviet Union.

Episode 4 - South East Asia

Episode 2 - Southeast Asia

Episode 1 - Pilot: Brazil
If You Like Madventures, Then Try...