Watch MotoGP
The Grand Prix of motorcycle racing is the premiere is the championship of motorcycle road racing. Currently it is divided into three divisions: MotoGP, Moto2 and Moto3. These three divisions primarily use a four-stroke engine which had replaced the 250 cc two-stroke engine. Over the years as motor bikes developed, so did the newer divisions with the different engine types weight class.
Motorcycles are purpose-built as racing machines so they can compete in the Grand Prix. However they can neither be purchased by the general public nor ridden legally on any public roads. This is opposite to the variety of racing bikes such as the World Championship Superbikes, that has modified versions of street bikes available to the public.
The Grand Prix was organized in 1949 by the Fédération Internationale de Motocyclisme (FIM).
Sundays on Speed Channel

6 Seasons,

56

Episodes - Returning Series

10/10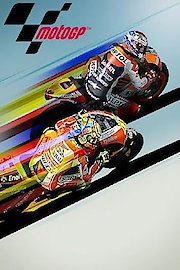 MotoGP

Full Episode Guide
Episode 13 - Sepang - Malaysia

Episode 12 - Phillip Island - Australia

Episode 11 - Motegi - Japan

Episode 10 - Aragon - Spain

Episode 9 - Misano - San Marino

Episode 8 - Silverstone - Great Britain

Episode 7 - Brno - Czech Republic

Episode 6 - Indianapolis - USA

Episode 5 - Sachsenring - Germany

Episode 4 - TT Assen - The Netherlands

Episode 3 - Catalunya - Spain

Episode 2 - Mugello - Italy

Episode 1 - Le Mans - France
Episode 4 - MotoGP Moto2: British Grand Prix

Episode 3 - MotoGP World Championship: British Gr...

Episode 2 - MOTOGP MOTO2, Czech Grand Prix

Episode 1 - MOTOGP World Championship, Czech Gran...
If You Like MotoGP, Then Try...