Watch New Amsterdam
The U.S. drama series New Amsterdam is a detective series with the twist that the main character of homicide detective John Amsterdam is a 400 year old immortal trying to break the spell of immortality given to him in the 17th century. Created by Alan Leob and Christian Taylor, New Amsterdam was commissioned for a single season by the Fox network in the U.S. and was a co-production between Scarlet Fire Productions, Sacrabande Productions and Regency Television. Eight episodes of the show were produced during the single season broadcast by Fox during 2008 before the show was cancelled despite strong critical reviews and good viewing figures for its allotted time slot.
The main character in New Amsterdam is NYPD homicide detective John Amsterdam who has remained a resident of New York since arriving in the city in 1642 as a Dutch soldier named Johann van der Zee. During the massacre of a local tribe of Native American's van der Zee saves the life of a female member of the tribe, but is mortally wounded in doing so. Left for dead by other members of the Dutch military van der Zee is saved by a magical spell that makes him immortal placed upon him by the Native American girl he saved; the spell makes van der Zee immortal until he finally finds true love and breaks the spell. Flashbacks used in each episode show the life lived by van der Zee through the centuries, including his marriages, children and jobs.
Each episode depicts John Amsterdam investigating a different crime while searching for his true love in an attempt to break the spell and become a mortal. The only member of Amsterdam's family to know of his immortality is his son Omar, a 65 year old Jazz club owner who helps Amsterdam track and when needed assist his own descendants in living their everyday lives.
1 Season,

8

Episodes - Ended

7/10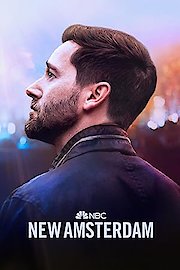 New Amsterdam

Full Episode Guide
John and Eva investigate the links between a drowned woman, a dating service and a series of robberies aimed at wealthy men. The case takes John back to his life in the 1920s as a grifter and thief. Meanwhile, John's recent experience makes him doubt whether Sarah may truly be "the one" who will make him mortal.

John becomes preoccupied with the dying wish of Andy, his first partner who is slowing succumbing to leukemia caused by a bullet lodged in his heart. Andy's wish is to bring the shooter to justice, but the case becomes more complex than anyone would have known. Flashbacks to John's start as a homicide detective help him to put together the clues, as well as aid John in realizing he may be near the end of his quest for love.

Police find a body full of bullets in Chinatown and call John and Eva to investigate. The vicitim has a striking similarity to Roosevelt, a son that John lost during the early 1900s, which causes him to take a personal interest in the case.

Episode 5 - Keep the Change

John and Eva look into the death of a homeless man whose best friend believes that his death, which was deemed an overdose, was actually a homicide. As they investigate, John and Eva make a connection between a homeless shelter and a guitar that the victim kept in his locker. Meanwhile, John thinks back to his addiction and a 12-step program he entered in 1964 after finding himself in a psych ward following too many nights of drinking and passing out.

Episode 3 - Soldier's Heart