Watch Our America with Lisa Ling
Our America with Lisa Ling is a documentary series where controversial, thought-provoking topics are explored in detail. The show aims to give its audience a different perspective on controversial issues. The series also encourages viewers to reexamine or even change their beliefs about certain subjects.
In Our America with Lisa Ling, Ling covers a variety of subjects, such as the swinger lifestyle, the struggles transgender individuals face, sex offenders, faith healers, polygamy, online brides, the struggles veterans face, sex trafficking, and arranged marriage. Ling asks thought-provoking questions in her interviews and attempts to immerse herself into the lives of the individuals she features on the show.
In one episode, Ling examines the lives of five individuals who are in the process of becoming the opposite gender. These individuals were born as biological females or males but have always felt that they were the opposite gender. One of the people she features on the episode is a six-year-old girl named Kaylee, who was born as a biological boy named Harry. Ling showcases the struggle Kaylee's parents had coming to accept their biological son as a girl. At first, her parents had a difficult time with the notion, but they eventually learned to accept her for who she really is.
Another individual Ling features in this episode of Our America is Landon, an 18-year-old boy who was born as a biological girl. Landon asserts he can remember being miserable having to wear little girls' clothes as young as three years of age. He explains that as he reached puberty, he felt like his body was betraying him, and he began binding, a practice where elastic bandaging or a very heavy sports bra is used to compress the breasts. He allows Ling to accompany him to his doctor's appointment where we are allowed to see him receive his first testosterone shot.
Through episodes, such as this one, Lisa Ling encourages viewers to reexamine their thoughts and beliefs regarding specific, controversial topics. Ling's background as an American journalist allows her to portray unique perspectives on such topics as sex trafficking, arranged marriage, and the swinger lifestyle on her documentary series, Our America with Lisa Ling.
Sunday 10:00 PM et/pt on

OWN

4 Seasons,

39

Episodes - Currently Airing

February 15, 2011

Reality

10

/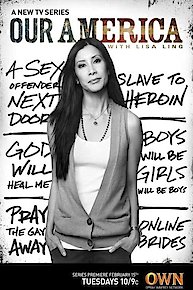 Our America with Lisa Ling

Full Episode Guide
Lisa Ling interviews a woman in Philadelphia recovering from a kidnapping and a mother in Washington D.C. with a missing daughter.

Episode

8

-

Teen Mom Nation: 2 years Later

Lisa revisits Latanya and Sophie two years into young motherhood.

Episode

7

-

Labeled for Life: 18 Months Later

Lisa revisits Travis Iosue in Texas 18 months after her initial report to see what he's been doing since he was registered a sex offender.

Episode

6

-

Under the Gun

In Philadelphia, seven people are shot every day; Ling interviews activists that are determined to end gun violence in the City of Brotherly Love.

Episode

5

-

Children of the System

Episode

4

-

Black America's Silent Epidemic

Episode

3

-

The ADHD Explosion

Episode

2

-

Transgender Lives: 3 Years Later

Episode

1

-

Fighting Satan
Season
3
78 clips available
Episode

15

-

Special Report: GOD & Gays

Episode

14

-

Families of Killers

Episode

13

-

I Love You & You...& You

Episode

12

-

A Predator in the Clubhouse

Episode

11

-

Martyrs for Christ?

Episode

10

-

3AM Girls: One Year Later

Episode

9

-

Swingers Next Door

Episode

8

-

Innocent Behind Bars?

Episode

7

-

Labeled for Life

Episode

6

-

The Lost American Dream

Episode

5

-

Holy Matrimonies

Episode

4

-

Life on the Rez

Episode

3

-

Teen Mom Nation

Episode

2

-

Brides of Christ

Episode

1

-

Sparkle Babies
Season
2
22 clips available
Season
1
21 clips available
If You Like Our America with Lisa Ling, Then Try...
Most Popular Our America with Lisa Ling Episodes
Season 3 Episode 9

Swingers Next Door

8/21/2012