Watch Perisher: Do or Die
Being a submarine captain is a prestigious job, that is anything but a dull moment, and requires passing the ultimate test: a six month long interview with four weeks of intense, sleep-deprived, non-stop naval warfare inside a nuclear attack submarine. The Royal Navy's Perisher is the oldest, most highly esteemed and brutal naval experience. Five top officers put their careers on the line to win the right to command a nuclear submarine.
Thursday 10:00 PM et/pt on Military Channel

1 Season,

4

Episodes - Currently Airing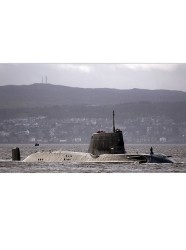 Perisher: Do or Die

Full Episode Guide
Episode 4 - The Final Reckoning

Episode 2 - Lurking in the Shallows

Episode 1 - For Your Eyes Only

Five young officers take part in the Perisher Course. It's one of the toughest training exercises ever devised.
If You Like Perisher: Do or Die, Then Try...