Watch Sherlock
"Sherlock" is a detective show based on the works of Sir Arthur Conan Doyle. The show is a modern-day update of the Sherlock Holmes stories and first aired on BBC One and BBC HD in the summer of 2010; the show is aired on PBS stations in the United States. The show has run for two seasons, with a third scheduled to begin production in early 2013. Each season has featured three 90-minute episodes.
The show was created by Steven Moffat and Mark Gatiss, who are also the executive producers. Moffat and Gatiss also write one episode each per season, as does Steve Thompson. Each episode is based on one of the original Sherlock Holmes stories. Although each episode features many similarities to the original story, the details of the plot and the ending are often changed, keeping even devoted fans of the original stories guessing.
The title role of Sherlock Holmes is played by Benedict Cumberbatch, whose other film credits include "Hawking,""Amazing Grace," and "Atonement." His work in "Atonement" drew the attention of Moffat and Gatiss, who targeted Cumberbatch for the role. Cumberbatch has drawn praise for his portrayal of the cold and calculating Holmes; his performance caused the writers to change the character for the second series to more effectively make use of his skills.
Dr. Watson, Holmes' faithful companion, is played by Martin Freeman. His other credits include "The Office,""The Hitchhiker's Guide to the Galaxy," and "Love Actually." In this modern update, Watson is a veteran from the Afghanistan conflict who struggles to adapt to life away from combat. The friendship between Watson and Holmes is a recurring theme throughout the show. Freeman won the BAFTA award for Best Supporting Actor for his work as Watson.
Andrew Scott plays Jim Moriarty, Holmes' archenemy. Scott has also appeared in "Lennon Naked,""Dead Bodies," and "My Life in Film." In casting Scott, the creators of Sherlock stated that they wanted to break the mold of Moriarty as a dull and posh villain. Scott has been praised for his portrayal of the manic and psychotic Moriarty and won the 2012 BAFTA award for Best Supporting Actor for his portrayal of Moriarty.
Rounding out the cast are Una Stubbs as Mrs. Hudson, the landlady of 221B Baker Street; Rupert Graves as Detective Inspector Greg Lestrade; and series co-creator Mark Gatiss as Mycroft Holmes, Sherlock's well-connected older brother.
4 Seasons,

10

Episodes

July 25, 2010

10

/
Watch Full Episodes of Sherlock

Season 4, Episode 1
The Abominable Bride (01:29:20)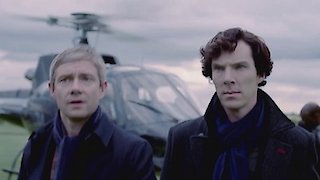 Season 3, Episode 3
His Last Vow
Season 3, Episode 2
The Sign of Three
Season 3, Episode 1
The Empty Hearse (01:26:44)
Season 2, Episode 3
The Reichenbach Fall (01:28:30)
Season 2, Episode 2
The Hounds of Basker...

Watch Episodes
News
Clips & Extras
Sherlock

Full Episode Guide
Episode

1

-

The Abominable Bride

Sherlock Holmes and Dr. Watson find themselves in 1890s London.
Season
3
3 full episodes, 19 clips available
Lady Smallwood tasks Sherlock with locating some letters of her husband's that newspaper publisher Charles Magnussen is using to blackmail her. However, the situation turns personal when Sherlock discovers that Magnussen also holds blackmail material on someone close to him.

Episode

2

-

The Sign of Three

Sherlock tries to endure making the best man's speech at John and Mary's wedding. However, he becomes distracted by the fact that one of the guests is a killer's target.

Episode

1

-

The Empty Hearse

Two years after Sherlock's supposed death, he goes back to London and finds John has moved on.
Season
2
3 full episodes, 1 clip available
If You Like Sherlock, Then Try...
Most Popular Sherlock Episodes
Season 4 Episode 1

The Abominable Bride

1/01/2016

Season 1 Episode 1

A Study in Pink

10/24/2010

Season 3 Episode 1

The Empty Hearse

1/19/2014

Season 3 Episode 3

His Last Vow

2/02/2014

Season 1 Episode 3

The Great Game

11/07/2010
Sherlock News
'Sherlock' Season 4 Gets a Release Date
Benedict Cumberbatch and Martin Freeman are very busy actors, but they apparently found enough time to make three more episodes of the popular detective series.
Will Moriarty Return in 'Sherlock' Season 4?
If you think that Jim Moriarty is no longer a problem for Benedict Cumberbatch's Sherlock Holmes, you might be in for a surprise in the series' upcoming season.
Sherlock Season 4 Finally on Its Way
Benedict Cumberbatch and Martin Freeman have been so busy that they haven't had time to work on a new season of Sherlock. Lucky for fans, they've at last been able to fit the series into their schedules.
Here's Ian McKellen as an Elderly Sherlock Holmes in 'Mr. Holmes' Trailer
Gandalf/Magneto as Sherlock Holmes? Yes please.
Benedict Cumberbatch's Fiancee is Pregnant!
Sherlock is going to be a daddy!
Benedict Cumberbatch Describes What Sex with Sherlock Holmes Would Be Like
So...Benedict Cumberbatch basically read off some erotic fanfiction.
Find Out Why Benedict Cumberbatch Is 'Completely Terrified' of the Word 'Penguin'
Turns out the award-winning actor has a weakness.
'Sherlock' Returning For Season Four, With Three Episodes and a Special!
"Sherlock," the hit BBC/PBS series, had its fate up in the air for a time, as both of its stars (Benedict Cumberbatch and Martin Freeman) were considerably busy shooting other projects. Finally, a season 4 has been announced! What is in store for Sherlock and Watson?
Watch Pete Holmes As the Worst Sherlock Ever
When Benedict Cumberbatch plays Sherlock Holmes, he's a brilliant master of deduction, figuring out every detail about a person's life at a single glance. When Pete Holmes plays Sherlock Holmes...well, it's a different story. This sketch from "The Pete Holmes Show" has the comedian playing a version of the famous detective with his last name that isn't quite so good at deduction.
What's Next for 'Sherlock?'
SPOILERS! With season three all wrapped up, what can executive producer Steven Moffat tell us about the next season of the PBS hit "Sherlock?"
View More News

Sherlock Video Clips & Extras
Sherlock: Emmy Awards 2014 - BBC One
Clip (00:21)