Watch Bad Girls Club
Bad Girls Club is exactly what it sounds like it is. It's what you get when you put seven highly-aggressive, irreverent, spoiled women in the same house and force them to interact with one another. What results is reality TV magic- the drama is non-stop as the girls bicker, cry, and backstab their way through three months under the same roof. It's no surprise that the series averages over a million viewers per episode.
Watch Full Episodes of Bad Girls Club

Season 16 Episode 12
Reunion: Part 2
Season 16 Episode 11
Reunion, Pt. 1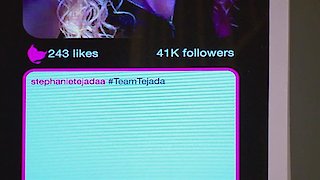 Season 16 Episode 10
#shabye (43:53)
Season 16 Episode 9
#lovegonebad
Season 16 Episode 8
#shadesofgay
Season 16 Episode 7
#helloGOODBYE

Watch Episodes
News
Clips & Extras
Bad Girls Club

Full Episode Guide
Season
16
13 full episodes, 7 clips available
Episode

12

-

Reunion: Part 2

Tanisha and Erica Mena return for part two and the Bad Girls discover what happens when you cross our OG host. Kailie faces her tormentors, Kaila and Tabatha, leading to an unexpected twist.

Episode

11

-

Reunion, Pt. 1

The bad girls reunite to discuss the season.

Tensions simmers between Kandyce and Brynesha and one bad girl decides to exit the house early. A BGC comedy roast lightens the mood, and the Bad Girls decide to cut loose for the final night.

When Brynesha fails to reciprocate Kandyce's deepening affections, the two girls go head to head; Kabrina gets real with her roommates; the whole house enjoys a sexy slumber party.

After a lengthy game of cat and mouse, Brynesha finally gives in to Kandyce's advances.

Episode

7

-

#helloGOODBYE

Episode

6

-

Welcome to #Kandyland

After the Bad Girls' survival skills are put to the test, newbie Kandyce gets into an argument with an OG.

New besties, Stephanie, Zee and Kailie savor their time in the house despite their beef with the other clique.

Episode

4

-

Gang Gang #Gone

Half of the Gang Gang Gang plots to get rid of Zee, but things get heated when Elliadria and Kaila struggle to see eye to eye.

The first replacement arrives. Also, Elliadria and Kaila's friendship begins to disintegrate, and Kailie and Zee struggle to repair their relationships with the other ladies.

Zee faces backlash after she went too far in the fight with Brynesha.

The "bad girls" arrive in Los Angeles in the Season 16 opener. Although they're quick to bond, two ladies are soon targeted for prompt eviction.

Episode

0

-

Bad Girls Club: Social Disruption Cas...

Prepare to tweet up a storm as we introduce you to the seven social media queens of season 16.
Season
15
14 full episodes, 1 clip available
Episode

13

-

Reunion Part 3

The Wallace sisters remain the target of debate. Hanan and Suha arrive with a vendetta against Angela and Kristina.

Episode

12

-

Reunion Part 2

Episode

11

-

Reunion Part 1

Bad Girl alumna, Tanisha, hosts as this season's bad girls reunite to discuss the drama and lies.

Episode

10

-

Five Dollar Farewell

Although the end of their stay is in sight, it doesn't appear that anyone will be reconciling soon. Jazmyn and Jaimee have to learn to stand on their own two feet after losing their only allies in the house.

Episode

9

-

Bids, Breakthroughs and Barbecues

The girls are auctioned off for charity. During Parent's Weekend, meet the parents, and see growth with the Babicz sisters. Some parents clash.

Jazmyn and Jaimee align with their new roommates and are ready to exercise their power. Angela's fate in the house is decided, after getting into it with a new housemate, and Allison and Melissa contemplate their own departure.

Episode

7

-

Birthday Blowout

Envious of Kristina's relationship with Asia, Angela struggles to enjoy her own birthday. The girls go on a pub-crawl/scavenger hunt to celebrate Angela's birthday.

Episode

6

-

Recipe For Disaster

Jazmyn and Jaimee remain united against the rest of the house, but the lies and violence overwhelm Melissa and Allison. A decision is made, sealing Olivia and Diamond's fate.

Episode

5

-

A Family Affair (& Other Tall Tales) ...

Olivia reveals a huge secret, which creates tension between her and Diamond.

Episode

4

-

No Room For T.H.O.T.s

Diamond is torn about being loyal to her sister, who's been snubbed, or her roommates.

Episode

3

-

Release The Beast And Other Tall Tale...

When replacement sisters arrive, a prank gets out of hand. Meanwhile, Olivia struggles with the consequences of being dishonest, and tension between Kristina and Angela explodes.

Episode

2

-

Twin Some, Lose Some

The roommates are ready to evict the twins. Also, trust issues surface upon further investigation into Olivia's medical condition.

Episode

1

-

Sis and the City

The new girls arrive and have their allies in tow...their sisters!

Episode

0

-

Casting Special

Brace yourself for the wild cast of Twisted Sisters, as we bring you exclusive sneak peeks into a game-changing season of secrets, lies and bad blood.
Season
14
13 full episodes, 31 clips available
Season
13
13 full episodes
Season
12
17 full episodes
Season
11
17 full episodes
Season
10
19 full episodes
Season
9
16 full episodes
Season
8
15 full episodes
Season
7
15 full episodes
Season
6
15 full episodes
Season
5
16 full episodes
Season
4
15 full episodes
Most Popular Bad Girls Club Episodes
Season 16 Episode 12

Reunion: Part 2

12/13/2016

Season 16 Episode 1

#LikeItOrNah

9/20/2016

Season 16 Episode 11

Reunion, Pt. 1

12/06/2016

Season 16 Episode 0

Bad Girls Club: Social Disruption Casting Spe...

9/13/2016

Season 15 Episode 1

Sis and the City

3/15/2016
Bad Girls Club Video Clips & Extras
Bad Girls Club: The B*itch Mashup - Season 17 Premiering Feb 14 at 8/7c | Oxygen
Clip (01:05)
Bad Girls Club: 5 Things to Know About BGC Season 17 l Oxygen
Clip (01:06)
Bad Girls Club 17: East Meets West Is Coming Soon! | Oxygen
Clip (00:32)
Are You the #Baddest Bad Girls Club Fan? | Take the Quiz! | Oxygen
Clip (00:26)
The Breakdown: Social Disruption S16 E4 | Oxygen
Clip (03:38)
The Breakdown: Social Disruption S16 E3 | Oxygen
Clip (03:22)
Bad Girls Club: Social Disruption - How to Throw Shade | Oxygen
Clip (02:27)
Bad Girls Club: Social Disruption - The Best Emoji and Hashtags for Throwing Shade | Oxygen
Clip (02:08)