Watch The Family Crews
The Family Crews is a Black Entertainment Television (BET) reality series. The series is about retired NFL player now actor Terry Crews and his family. Viewers will see Crews family and how they interact with each other. During the show viewers meet Crews' wife Rebecca and their five children. After meeting the family viewers will see how Crews juggle the roles of husband, father, and actor. In one episode Crews has to leave a family outing to attend a movie premier that he had to attend. Viewers will also have a chance to hear the story of Rebecca Crews.
Viewers will also get a chance to see serious moments that happen in the family. With that being said viewers will see how Terry and Rebecca discipline, how they treat boyfriends, and how they deal with a life changing situation.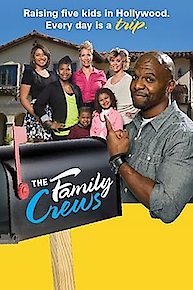 The Family Crews

Full Episode Guide
Episode

11

-

I'm Coming Out

Rebecca performs her One-Woman show and Terry realizes the commute from New York to Stamford, Connecticut is impossible.

Episode

10

-

New York, New York

The family arrives in New York City. Terry tries out his new commute to Stamford while Rebecca meets with George Faison.

Episode

9

-

Blessed Miley

Terry and Rebecca persuade Naomi to have a baby blessing for Miley even if Jorge's family won't be there.

Episode

8

-

True Love Waits

Azzie gets accepted to NYU and Terry and Rebecca take Tera to a purity ball.

Episode

7

-

We Are Almost There

Episode

6

-

If Philly's Rockin, Don't Come Knocki...

Episode

5

-

Mommy's Revenge

Episode

3

-

Isaiah's Lottery Ticket

Episode

2

-

Jerome Mayberry: Fo'-Real!

Episode

1

-

There's No Place Like Home
Episode

11

-

The Future is Here

Episode

10

-

Moving On Up

Episode

9

-

And the Beat Goes On

Episode

8

-

Flying the Coup

Episode

6

-

California Dreamin'

Episode

5

-

So You Wanna Be A Star?

Episode

4

-

Breaking Up Is Hard to Do

Episode

3

-

Burn, Baby, Burn!

Episode

2

-

Mr. Mom/Mrs. Superstar

Episode

1

-

Will You Marry Me...Again?
If You Like The Family Crews, Then Try...