Watch The Grizzly Man Diaries
Series Length:
1 Season,

8

Episodes
Description:
"The Grizzly Man Diaries" is an eight-part series that pulls together small stories from the footage left behind by wildlife enthusiast and self-proclaimed bear expert Timothy Treadwell, who was killed by a bear in 2003. Treadwell spent over 13 years living amongst the grizzlies in Alaska's Katmai National Park. The series explores his relationship with the bears and their surroundings.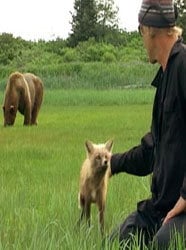 The Grizzly Man Diaries

Full Episode Guide
Treadwell becomes friends with a partially deaf grizzly bear named Quincy, who also has tumors and no bottom teeth. He also makes note of a nightmare in which he was eaten by a bear in his journal.

Episode 7 - Day in the Life

Treadwell leaves camp disoriented after a 6.5 earthquake hits, and finds comfort near the rivers edge until he is greeted by an 800 pound grizzly bear.

Now late in the season, a unusually large number of large male bears are competing for fish and angry beavers become night visitors to the campsite. Also, a group of mischievous weasels have taken their toll on the camp.

Treadwell gets the opportunity to observe the mating season for grizzly bears, and is reunited with his fox family, but finds himself stuck in the area by an off season storm.

Episode 4 - The Salmon Run

Episode 3 - The Two Timothys

Episode 1 - In The Sanctuary
If You Like The Grizzly Man Diaries, Then Try...