Watch The Real Housewives of New York City
The Real Housewives of New York city is a reality tv program on the Bravo tv network. Most of them are successful business women who seem to have it all and can do it all. Now in its 5th season there are new fresh faces in the group. What once was a boring reality show has come alive.
Ramona Singer who is by far the star of the show is a successful business woman with her successful wine business, Ramona Pinot Grigio, Tru Renewal skincare line, True Faith jewelry collection, and her Ramona Singer Jewelry on HSN. Know too many for her "Turtle Time" she seems to be the jack of all trades.
LuAnn De Lesseps or the countess is know for her manners and etiquette. She has written a book Class with the Countess and released songs, Money Can't Buy You Class and Chic C'est La Vie. She has had numerous articles in published in several known magazines.
Sonja Morgan quoted as saying "I have a taste for luxury and luxury has a taste for me" Sonja is know for her catering, Sonja in the City and of course her toaster oven adventure. She even cooks for her guest full meals with her toaster oven.
Carole Radziwil know for her journalistic work for Primetime Live and 20/20. She is a best selling author for her book, What Remains: A Memoir of Fate, Friendship and Love. A story of her life and battles she faced while losing her husband to cancer. Lets not forget this down to earth gal is also a princess, once married to Polish prince Anthony Radziwill. Anthony was the son of Lee Bouvier Radziwill, the sister of Jacqueline Kennedy.
Heather Thomson the creator of Yummie by Heather Thomson, a successful shapewear line she designed after having her children and being disappointed by the products available to her. She is also know as a successful designer and stylist working for several big named celebrities.
Aviva Drescher the final housewife. Actually she is the only housewife. She devotes all of her time to her husband and taking care of her 4 children. Aviva was involved in a terrible accident at a young age and had to have her leg amputated. Now with a prosthetic leg she is bound and determined to not let the tragedy define who she is.
Watch Full Episodes of The Real Housewives of New York City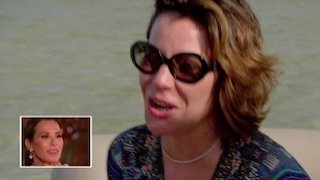 Season 8 Episode 23
Reunion Part 3
Season 8 Episode 22
Reunion Part 2
Season 8 Episode 21
Reunion Part One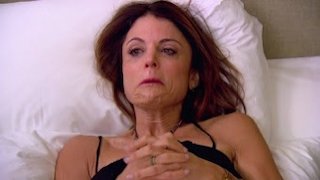 Season 8 Episode 20
Say It Ain't So
Season 8 Episode 19
Tomfoolery
Season 8 Episode 18
Body of Evidence

Watch Episodes
News
Clips & Extras
The Real Housewives of New York City

Full Episode Guide
Season
8
23 full episodes
Episode

23

-

Reunion Part 3

Andy Cohen hosts as Sonja discusses how she was treated during the season; the women laugh over their trip to Miami, then things take a dark turn when the ladies discuss the decision Luann made to stay with Tom.

Episode

22

-

Reunion Part 2

Bethenny gets emotional over recent events; Julee is defensive; Dorinda explains hers actions; Andy Cohen hosts.

Episode

21

-

Reunion Part One

The housewives reunite to discuss the ups and downs of the season.

Episode

20

-

Say It Ain't So

In the season finale, Luann is devastated after Bethenny delivers news about Tom. Also: Luann checks into a hotel and examines her situation, and Bethenny hosts a Mexican-theme bash with a piñata packed with big-bucks jewelry.

Bethenny divulges a damaging secret about Luanns relationship with some of the ladies. Out on the town Luann continues to gloat about her engagement, while Bethenny and Sonja investigate and make a confrontational phone call.

Episode

18

-

Body of Evidence

The ladies celebrate at Luann's engagement party. Jules is overwhelmed with long-distance parenting and Sonja's feelings about Luann's party are revealed.

Episode

17

-

And Away We Finally Go

The ladies plan a getaway to Miami, but are conflicted about LuAnn's last-minute engagement party in Palm Beach. Meanwhile, unresolved issues surface; Jules visits her parents; and Bethenny visits a friend in Miami.

Episode

16

-

The Countess Bride

The ladies' spirits are lifted while at the Mohegan Sun casino. Meanwhile, Carole and Adam discuss their future, conflicting plans surround LuAnn's engagement, Bethenny ignores advice and packs for a trip, and a new getaway is announced.

Episode

15

-

All Bets Are Off

Furious after listening to the girls talk badly about Luann, Jules gives Bethenny a piece of her mind. After insulting Luann at the dinner, Ramona tries to make amends.

Episode

14

-

The Benefits of Friendship

Bethenny ignores her health issues and gets dolled up up for a Skinnygirl event. Ramona and Sonja take a dance lesson; Jules sees her plastic surgeon; and the women sit down for a few drinks.

Episode

13

-

Steel Calzones

Carole meets up with old friend Heather Thomson for a winter ice skate in the park. Sonja reminisces with Dorinda while cleaning out her basement.

Episode

12

-

Always the Bitch, Never the Bride

It feels like old times for Ramonja as Ramona and Sonja reconcile and try to hatch a plan for Sonja to get back in Bethenny's good graces. Jules shares a secret business project with Michael, who is both surprised and impressed.

Episode

11

-

Invitation Interrupted

In the aftermath of the fallout from her Tipsy Girl venture, Sonja decides to change her partying ways. Her roommate, Luann, has a surprising announcement of her own.

Episode

10

-

Unhappy Holidays

The drama rages on in the Berkshires as Bethenny vs. Luann goes into round 2. Back in the city, Jules has to adjust to life without a nanny.

Episode

9

-

December: Berkshires County

Things get icy at Dorinda's Berkshires holiday party, when tension between Luann and Bethenny erupts. Ramona gets wrapped up in the chaos and accuses Luann of breaking the girl code.

Episode

8

-

All The Countess's Men

Bethenny hosts a holiday party and a vacation to the Berkshires becomes the hot topic. During a walk with Sonja, Dorinda gives her some disappointing news.

Episode

7

-

Airing Your Dirty Laundry

When Sonja stops by to talk with Bethenny, she's shocked by Bethenny's response to her new business. Meanwhile, Luann officially moves in with Sonja, Jules is on the hunt for a new nanny, and Carole takes care of a kitten while working on a vegan cookbook with Adam.

Episode

6

-

Tipsying Point

Carole hosts a psychic session that takes a dramatic turn when Dorinda gets an unexpected reading. Later, Jules opens up to Carole about turning her struggles into positive actions to help others.

Episode

5

-

Birthday Bashing

Jules complains to Dorinda and Carole about Bethenny's behavior during the Hamptons trip. Bethenny gains a newfound respect for Jules when Jules opens up about a personal struggle.

Episode

4

-

BBQ, Brunch or Bust

While the ladies are still enjoying their getaway in the Hamptons, Dorinda preps John to apologize to Bethenny for crashing the lingerie party and insulting her.

Episode

3

-

The Biggest Boob

Dorinda questions Ramona at the lingerie party. John shows up and is prepared to take on Bethenny. Later, the ladies try to relax in the Hamptons to celebrate Bethenny's birthday, yet past dramas surface.

Episode

2

-

An Intimates Affair

Bethenny prepares for her barbecue birthday bash to be held at her Hamptons home. LuAnn and Sonja connect, Dorinda stops by to see Ramona's revamped apartment and Dorinda hosts a lingerie party that takes an unexpected turn.

Episode

1

-

Start Spreading The News

Bethenny is thrilled to be living in a home that she loves, all while struggling to balance her career, dating and a messy divorce.
Season
7
24 full episodes, 9 clips available
Episode

101

-

The Moment: Real Housewives Awards

The people have voted and chosen the most wonderful, wacky, and downright shocking moments from the latest seasons.

A sneak peek of the upcoming episode.

Episode

24

-

The Real Housewives of NYC - 100th Ep...

Some of the most unforgettable and buzziest moments are highlighted as "Watch What Happens Live" host Andy Cohen pulls back the curtain on the series.

Episode

23

-

Secrets Revealed

View unseen footage from the season.

Episode

22

-

Reunion, Part 3

In the final part of the reunion, Sonja is still on the defense as all of the ladies question her business sense.

Episode

21

-

Reunion, Part 2

The ladies sit down to discuss the season in the second part of the reunion.

Episode

20

-

Reunion, Part 1

The ladies reunite to discuss the drama of the season - including Bethenny's return, boyfriends and girl codes.

Episode

19

-

New Beginnings, My Ass

Sonja receives great press for her Fashion Week debut thanks to Bethenny and Ramona. Dorinda and John have an awkward lunch. Past drama resurfaces at Ramona's New Beginnings party.

Episode

18

-

Rumble on the Runway

It's Fashion Week and there is plenty of drama. Kristen is anxious to debut her nail-polish line.

Episode

17

-

London Calling

While in London, Carole and Dorinda bond over losing their husbands. In New York, Sonja gives Ramona some dating tips when they both are invited to a party.

Episode

16

-

Awfully Charitable

Carole stops by Bethenny's almost-finished apartment and gets her up to speed with the chaos that occurred at the end of Kristen's denim-decorating party. At Kristen's Denim and Diamonds charity event, Ramona throws a fit that her necklaces aren't displayed as prominently as Heather's jeans.

Episode

15

-

Don't Be All, Like, Uncool

Heather scolds Luann and Ramona when she wakes up and discovers a naked man in the room next to hers.

Episode

14

-

Conch Blocked

Bethenny calls out Ramona during lunch. Later, while the women have fun dancing at the Conch Bar, Ramona hits on the bar's owner. The next day Sonja organizes an enjoyable day at a beachfront hotel.

Episode

13

-

Sonja Island

Episode

12

-

Lord Of The Manor

Kristen and Bethenny clash once again, this time at Luann's fashion launch party. Later, the women head to the Turks and Caicos Islands.

Episode

11

-

Fashionably Fired Up

Bethenny invites the women to decorate cupcakes while Luann asks everyone to participate in a photo shoot.

Episode

10

-

Pop of Crazy

Dorinda's birthday dinner comes to an unappealing end. Back in New York, Ramona is excited to have Avery home. It's all business when Bethenny invites Sonja to her brand summit while Kristen invites Carole to contribute some color for her new nail polish line.

Episode

9

-

Birthday in the Berks

The friends make their way to the Berkshires in Massachusetts to celebrate Dorinda's 50th birthday.

Episode

8

-

The Cavi-Art of War

Bethenny visits her therapist after meeting with her stepfather; Bethenny breaks the news she won't be able to attend Dorinda's planned birthday bash in the Berkshires; LuAnn and Ramona face off at a dinner.

Episode

7

-

Family Matters

While at a boxing match, Carole and Luann head to their respective corners when Luann brings up Carole's young beau, Adam. Meanwhile, Bethenny meets with her estranged stepfather, John, and tries to hash out her troubled past.

Episode

6

-

Double Down on Delusion

The friends head to Atlantic City to celebrate Ramona's first birthday sans Mario.

Episode

5

-

Mind Your Own Business

Having been warned about Sonja's questionable business aspirations, Bethenny goes to lunch with her to investigate.

Episode

4

-

The Art of Being a Cougar

Carole heats things up with Luann's handsome, younger chef, Adam.

Episode

3

-

Battle of the Brunches

Luann, Carole, Kristen, and Heather attempt to stay neutral in a possible renewal of tensions between old frenemies, so they decide to attend both Bethenny's and Ramona's brunches.

Episode

2

-

New House, Old Grudges

Luann shows off her new Hamptons home to the ladies at a housewarming party. Dorinda and Sonja finally meet each other at Ramona's house. Carole flirts with Luann's much younger chef. Tensions surface between Bethenny and Ramona at Luann's party.

Episode

1

-

The B Is Back

In the seventh season premiere, Bethenny is knee-deep in her divorce. Luann plans a weekend at her new home in the Hamptons and invites the ladies to join. Ramona is dealing with her separation from Mario. Carole feels the pressure from her book publisher and new housewife Dorinda is living two separate lives - one includes her boyfriend John and the other includes her 21-year-old daughter Hannah.

Episode

0

-

New York City Social: Battle of the B...
Season
6
23 full episodes, 1 clip available
Season
5
21 full episodes, 153 clips available
Season
4
18 full episodes, 100 clips available
Season
3
18 full episodes, 164 clips available
Season
2
15 full episodes, 87 clips available
Season
1
9 full episodes, 32 clips available
If You Like The Real Housewives of New York City, Then Try...
Most Popular The Real Housewives of New York City Episodes
Season 8 Episode 1

Start Spreading The News

4/06/2016

Season 8 Episode 7

Airing Your Dirty Laundry

5/18/2016

Season 6 Episode 1

If You Can Make It Here

3/11/2014
The Real Housewives of New York City News
A Judge Actually Told Bethenny Frankel That She Can't Wear Kids' Pajamas Anymore
Our legal system at work.
The Countess Has A Few 'Real Housewives Of NYC' Axes To Grind
"Real Housewives Of New York City" cast member Countess LuAnn de Lesseps has some kind parting words toward some recently released cast-mates. She also has a few that fell along the opposite end of the spectrum.
Fellow Former 'New York Housewive' Bethany Frankel Comments On Fired Four
Bethenny Frankel, the wildly successful ex-"Real Housewives of New York City" cast member who got out while the getting was good claims her four former castmates' firings didn't catch her off-guard. Frankel wasn't among the four housewives that Bravo recently let go before the show starts filming its fifth season. She left voluntarily after the fourth season, and has gone on to have considerable success.
Former 'New York Housewives' Cast Member Jill Zarin Speaks Out On Firing
Another of the four fired "Real Housewives Of New York City" cast members has released an official "farewell" statement to the Bravo hit's fans. Cast member Jill Zarin claims she has a new show in the works, which she claims will "go in a different direction."
Bethenny Frankel's New Talk Show
Reality success, a spin-off series and the big dollar sale of a profitable business are not enough for "The Real Housewives of New York City" star Bethenny Frankel. Even with a bank account padded by the $120 million she made selling her SkinnyGirl company, she's branching out with her own talk show, and Ellen DeGeneres apparently has her back.
Is 'Real Housewives Live' a 'Really Bad Idea'?
File this one under "Really Bad Ideas." Bravo announced this week its latest grand plan for spreading the word about its reality TV lineup - a "Real Housewives Live" tour. According to The Wrap, "the tour will stop in three cities -- Atlantic City, New Jersey; Hammond, Indiana; and Atlanta -- and each show will feature four cast members from various 'Housewives' franchises talking about their reality-show experiences."
Facing Bankruptcy and Divorce, 'Real Housewives of New York' Star Sonja Morgan Sings the Karma Blues
After filing for bankruptcy last month, "Real Housewives of New York" star Sonja Morgan may lose her $6 million Manhattan home. According to Morgan, her recovery includes toaster ovens and inspiration from Bethenny Frankel's success.
'Real Housewives of NYC' Star Cindy Barsop Turns Table On Race-Baiting Ex-Employee
Let's play a little game I like to call "Who's The Reality-TV Racist, Anyway?" The lawsuit between "Real Housewives of NYC" star Cindy Barshop and former employee Altovise Collier is taking on an ugly new wrinkle: whereas it was Collier who first claimed that Barshop fired her from Barshop's Completely Bare spa because she's black, Barshop is now claiming that Collier's racism is killing her business.
Simon of 'Real Housewives of NY' Releases a Single: He is Real-Real-Real (Plus: A 'Real Housewives' Medley)
Simon van Kempen of the "Real Housewives of New York" wants the world to know he is "real" and you should be "real" too.
In his very rhyme-y debut single, "I Am Real" Van Kempen sings, "You should live your life for you, not how others tell you to."
As the red-leather-clad Van Kempen told PopEater, the lyrics suited him to a 'T.
How Real is 'Real Housewives'? New York Cast Gets Grilled, While Miami Women Go Live
Just how real is the "Real Housewives of New York City" – or any city series for that matter?
It's a good question, and one that Joy Behar slammed on the women from the Big Apple after the spoke about conflicts that were "drama for the show."
"So you're saying that things are faked?" Behar asked during their appearance on "The View.
Springtime for Reality: The New Reality Season Kicks Off Now (Yidio's Spring Reality TV Guide)
It's a fertile time for reality TV. From new "Top Chef: Masters" and "The Real Housewives of New York City" seasons to the recent kickoffs of "Shark Tank" and "Bethenny Ever After," reality is in full bloom, even after "Jersey Shore" called it a wrap last week. The ever-expanding genre even has its own Expo and Awards show called "Reality Rocks" coming up April 9-10 in L.
View More News

The Real Housewives of New York City Video Clips & Extras