Watch Welcome to Myrtle Manor
Series Length:
1 Season,

10

Episodes
Schedule:
Sunday 10:00 PM et/pt on TLC
Description:
The series offers a picture what life is like in a trailer park located in Myrtle Beach, South Carolina. Becky is the manager of the community but has trouble getting people to follow the rules. The residents often resort to crude and sometimes violent behavior such as setting fires or threatening to beat someone up. There is plenty of drinking, smoking and crude, lewd language. There are plenty of bikini clad girls and toned young men.
Becky's dream is to to turn the trailer park into an upscale residential resort, but thanks to some of her residents, it is an uphill battle. Becky's father Cecil wants to run the park as a profitable business while Becky has a tendency to coddle the residents more than she should. The park is home to some eccentric characters such as Chelsey, Lindsey and Amanda who spend their time in bikinis while making and selling hot dogs.
Lindsey and Amanda had a violent an altercation and Lindsey was evicted from the park. The outrageous Roy, an ex- drag queen, and Gina, who grew up in the park, run the beauty salon located in the park. Jared is the resident handyman.
Jared does maintenance in the park in exchange for a trailer to live in. Jared's main talent is his good looks that doesn't go unnoticed by some of the female residents. Taylor lives with his girlfriend Jessica right across the street from his nosy mother Anne. Taylor and Jessica's relationship is off and on due to his wandering eye and continous partying.
Myrtle Beach Manor is made up of long time residents and some that are just passing through. Each week there are parties and some drama. The quirky residents make sure that life at Myrtle Manor is never dull.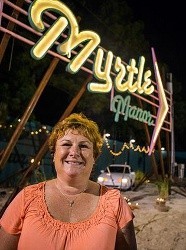 Welcome to Myrtle Manor

Full Episode Guide
Episode 10 - My Big Fat Trailer Park Wedding

First Aired: May 05, 2013

In the first season finale, the sale of Myrtle Manor to a local developer could ruin Jared and Chelsey's wedding.

Episode 9 - Where There's Smoke, There's Jared

First Aired: April 28, 2013

Cecil seriously considers selling Myrtle Manor; Jared decides Chelsey is the one; Taylor invites Bandit back to the park.

Episode 8 - Bogged Down in Love

First Aired: April 21, 2013

The park's "Chicken Bog" cook-off is nearly ruined until Becky saves the day; Jared thinks he needs a job with better pay if he wants his relationship with Chelsey to continue.

Episode 7 - Investigations and Altercations

First Aired: April 14, 2013

A community yard sale doesn't go quite as planned, which lands Becky in the hot seat with her father, who decides to make changes at the trailer park.

Episode 5 - Queen of the Trailer Park

Episode 4 - Trouble in Weiner-dise

Episode 3 - Days of Our Trailer Park Lives

Episode 2 - All Tangulled Up

Episode 1 - A Five-Star Resort
If You Like Welcome to Myrtle Manor, Then Try...