Watch Zipang
Mirai, an improved Kongou-class Aegis guided missile destroyer, is one of the newest and most advanced ships in the entire Japanese Self-Defense Force (SDF). Her crew, also one of the newest, is lead by Capt. Umezu Saburo and Executive Officer Kadomatsu Yosuke. While running scheduled training exercises one day, Mirai encounters a fierce storm that throws their navigation systems into temporary disarray. After a few minutes of recovery, the crew is shocked to discover that they've been transported back in time to June 4, 1942 -- The Battle of Midway, during World War II. Letting history take its course for this battle, they manage to avoid the conflict firsthand and make a vow to remain annonymous, changing history as little as possible. However, when the crew comes across the dying Lt. Commander Kusaka Takumi, XO. Kadomatsu's instincts to save lives takes over, changing the course of history more than he could've imagined.
1 Season,

26

Episodes - Ended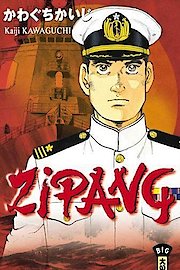 Zipang

Full Episode Guide
Episode 26 - The Place I Ought to Return

Episode 24 - The Dead and the Living

Following the previous episodes' events, people on all sides are having hard time coping with what has so far transpired. On a U.S. destroyer carrying the survivors of the battle against the Mirai, Commander Hutton is a drunken wreck, seized by the nightmares of the battle and melancholy over the many subordinates he lost. On the Mirai, the crew is also coping with the shock of the battle and loss of their comrades — to the point that Gunnery Officer Kikuchi had to be sedated. On Guadalcanal, where the Ichiki detachment has just been wiped out, Lt. Commander Okamura is tending to a group of tattered Japanese survivors. The survivors include a very dejected Lt. Colonel Tsuji. Okamura convinces Tsuji that he must report to the Imperial GHQ about the difficulties that the Japanese troops are facing on Guadalcanal and urge a prompt and total evacuation to save the lives of thousands. In Tokyo, General Ishiwara meets Admiral Yonai for a hot-pot lunch at the famous Dozeu Restaurant, near the Tokyo Train Station. Yonai, to surprise of Ishiwara, remarks that Mirai must be destroyed for the sake of Japan's future.

Episode 23 - Sinking of WASP

Episode 21 - 1 against 40

Episode 19 - Another Staff Headquarters

Episode 17 - Zipang's Movement

Episode 16 - Major Okumura's Will

Episode 15 - The Living and the Dead

Episode 13 - Country of Gold

Episode 12 - Arrow of Sagittarius

Episode 11 - Island of Guadalcanal

Episode 7 - Malay Railway

Episode 5 - Souka`s Choice

Episode 4 - Battle of the Future

Episode 3 - Person Adrift

Episode 1 - Future Departure
If You Like Zipang, Then Try...