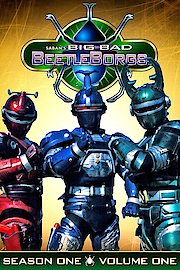 Watch Big Bad Beetleborgs
TV-Y7
1996
2 Seasons
The show known as Big Bad Beetleborgs was an American television series that aired for two years in the late 1990's. It was shown on the Fox Kids network from 1996-1998 and also had reruns shown on UPN Kids. In May of 2010 the copyrights of the show were sold to SCG Power Rangers. After the show was completed some of the footage was adapted from the Metal Hero Tokusatsu series particularly Juukou B-Fighter and B-Fighter Kabuto in the first and second season respectively. The show only aired for two seasons as well.
In the show the plot and premise sets in a town known as Charterville. There are three kids named Drew, Jo and Roland who enter a haunted mansion. They enter the mansion after being dared by snobby rich individuals Van and Trip. Once they enter the house, they quickly find out that the mansion is full of monsters. Fortunately for the kids, the phasm known as Flabber who is quite friendly and welcoming of their presents. He offers to grant them a wish out of gratitude for releasing him. When making the wish, the three kids request to become their favorite superheroes the Beetleborgs. However this also allows their enemies to come to life such as the Magnavores who are led by Vexor who sends out monsters to battler the Beetleborgs. In the end of the first episode, the Beetleborgs are assisted by Nukus who is able to eliminate the Magnavores and help Art Fortune regain his picture that was stolen by the Magnavores.
After the events of Season 1, the second season of the show picked up where the first one left off. The second season is known as Beetleborgs Metallix. During the second season, a new enemy emerges. They are known as the Crustaceans. In the second season Nukus, who helped the Beetleborgs defeat the Magnavores, finds out that his creator is Les Fortunes, the incarcerated brother of Art. As a result of this, Nukus gets Les out of prison and then Les begins to help create new villains and monsters. Art meanwhile gives new powers, weapons and armor to the Beetleborgs. They then become the Beetleborgs Metallix a new and improved version of what they were in the first season. In the end of the second season, the Beetleborgs form an alliance with a previous enemy known as Boron which eliminates Nukus' greatest weapon. Les also decides to go back to prison which further weakens Nukus. In the end the Beetleborgs have a final battle with their enemies and defeat them.
Big Bad Beetleborgs is a series that is currently running and has 2 seasons (88 episodes). The series first aired on September 7, 1996.