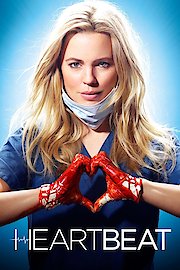 Watch Heartbeat
TV-14
2016
18 Seasons
Heartbeat is a medical drama series that aired on NBC in 2016. The show stars Melissa George as Dr. Alex Panttiere, a brilliant and fearless cardiothoracic surgeon who is renowned for her innovative techniques and unorthodox methods. Dave Annable plays Dr. Pierce Harrison, the chief of surgery who is a by-the-book kind of guy, and Don Hany plays Dr. Jessie Shane, Alex's former flame who is now serving as a transplant surgeon.
The show follows the lives of the medical professionals at the fictional St. Matthew's Hospital in Los Angeles, California. Alex is the star of the hospital, known for taking on risky surgeries and complicated cases. Her medical skills are unmatched, but her personal life is in shambles due to her troubled past and ongoing romantic entanglements.
Pierce is the straight-laced chief of surgery who wants everything done by the book. His conservative rigidity often clashes with Alex's approach, which leads to some sharp disagreements between the two. Pierce is also carrying a secret that he has been keeping from his colleagues, a secret that threatens to destroy his career and reputation.
Dr. Jessie Shane is Alex's former lover, but their relationship ended on a sour note. He has now moved on and is a transplant surgeon at the hospital, but his feelings for Alex still run deep. He struggles to keep his emotions in check as he works alongside Alex, knowing that they could never be together again.
The rest of the hospital staff includes Tricia (Shelley Conn), Alex's best friend and the hospital's talent coordinator, who is always there to lend an ear or a word of advice. Also part of the team is Dr. Callahan (Jamie Kennedy), one of the hospital's best trauma surgeons, and Dr. Bettencourt (Maya Erskine), a socially awkward neurologist with an encyclopedic knowledge of medical conditions.
Throughout the series, Heartbeat explores the many challenges faced by the medical professionals as they deal with high stakes situations in the operating room, while also facing the inevitable personal and romantic complications that arise in their lives. The show also delves into the ethics of the medical profession, exploring topics such as organ donation, assisted suicide, and medical malpractice.
Heartbeat is a fast-paced, thrilling medical drama that keeps viewers on the edge of their seats. Melissa George delivers a standout performance as Dr. Alex Panttiere, a character who is both fierce and vulnerable. The chemistry between the cast is palpable, and the show is expertly crafted with a perfect blend of drama, action, and humor.
In conclusion, Heartbeat is an engaging and entertaining medical drama that is worth a watch. The dynamic characters and high-stakes situations keep viewers invested in the story, while the show's exploration of various ethical issues adds depth and meaning to the show's narrative. Fans of medical dramas will not want to miss Heartbeat.
Heartbeat is a series that is currently running and has 18 seasons (375 episodes). The series first aired on March 22, 2016.