Life on Location
Life on Location is a 10 minute segment that airs at the end of the British documentary TV show, Life. This show is written and narrated by David Attenborough for BBC. It is all about animals, kingdoms, wild life and primates. Life was first aired in 2009. It was made to be a 50 minute show only, so that they can do a Life on Location segment about the animals or primates living there. With its growth in popularity across the world, it now airs in the US on the Discovery Channel with Oprah narrating it.
1 Season,

10

Episodes

December 31, 2008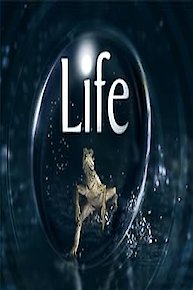 Life on Location Full Episode Guide
Episode

10

-

Ninety Nine Percent

The crew found they shared a great affinity with chimpanzees when they filmed them in their natural habitat.

An in-depth look at how the film makers employed various techniques in order to capture plants at their best.

Explores the life of marine invertebrates, the earliest life forms on earth from a billion years ago.

Two members of the Life crew get up close and personal with elephant seals; although getting too close could jeopardize the integrity of the film.

Episode

6

-

Flying with Butterflies

A behind the scenes look at how the Life programme makers tried to capture the activities of monarch butterflies by flying a camera amongst them.

Episode

5

-

Hide and Seek

The end result of a long and difficult quest, mating between Vogelkop bowerbirds is filmed for the first time.

Episode

4

-

Fish Out of Water

A closer look at the making of Life, including how the cameramen filmed underwater while trying to avoid getting caught up in the action.

The team attempt to film the humpback whale's mating contest; this requires local knowledge, hours on the water and a big slice of luck.

Episode

2

-

Chasing the Dragon

The Komodo film crew tell of the harrowing experience of filming the dragon hunt.

This behind-the-scenes look at the making of the show includes the filming of Antarctic killer whales, which have never been filmed hunting.