Madventures
In this Finnish TV series, two companions, Tunna Milonoff and Riku Rantala travel to different countries to explore the world's wanders. The pair only carry cameras and back packs to their destinations in order to get a full feel of their surroundings. They aim to find the most insane and beaten path destinations to create an extreme thrill. The Madventure hosts takes part of the local customs that are usually considered a taboo to the modern world. There's even a section of the show called "Mad Cook," where the duo eat weird concoctions of the land such as monkey brains or dog meat.
Monday 10:30 PM et/pt on Travel Channel

2 Seasons,

9

Episodes

September 21, 2009

/

10

Cast:

Tuomas Milonoff, Riku Rantala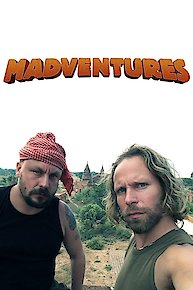 Madventures Full Episode Guide
The duo head travel into Yemen's dangerous desert.

Episode

7

-

Papua New Guinea

Riku and Tunna find themselves in the jungles of Papua New Guinea.

The boys take a trip to the former Soviet Union.

The two Finnish filmakers sample the delights of India.

Episode

4

-

South East Asia

Riku and Tunna sample unusual cuisine and illegal arms-dealing in south-east Asia.

The lads witness some unusual African religious customs.

Episode

2

-

Southeast Asia

Riku and Tunna travel through Southeast Asia in search of freedom. Drinking cobra blood and shooting bazookas, our mad men take on the ruthless military junta of Myanmar.

Episode

1

-

Pilot: Brazil

Riku and Tunna travel from the urban jungles of Rio's favelas to the rainforests of the Amazon basin in the footsteps of William Burroughs and Allen Ginsberg, searching for the deepest swamps and quagmires of the sub-consciousness.