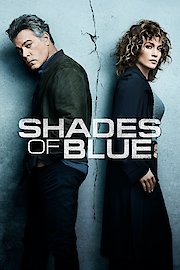 Watch Shades of Blue
TV-14
2016
3 Seasons
Shades of Blue is a gritty police drama that aired on NBC from 2016 to 2018. The show revolves around the story of Harlee Santos, a seasoned NYPD detective played by Jennifer Lopez, who finds herself caught up in a web of corruption and betrayal. Alongside her colleagues in the FBI, Harlee is forced to walk a tightrope between loyalty and self-preservation as she grapples with the consequences of her actions.
The show is set in New York City and features an ensemble cast of talented actors including Dayo Okeniyi as Michael Loman, a rookie cop who starts to question the NYPD's methods; Drea de Matteo as Shirley Flynn, a tough-as-nails detective who is loyal to a fault; and Hampton Fluker as Patrick Tufo, a detective who has a troubled past. Ray Liotta also stars as Lieutenant Bill Wozniak, a seasoned cop who is both mentor and antagonist to Harlee.
The first season of Shades of Blue sets the tone for the show, as Harlee becomes embroiled in a corruption scandal involving her boss at the NYPD. Pressure from the FBI prompts Harlee to become their informant, but as the stakes get higher and the risks greater, she struggles to maintain her cover.
Throughout the show, the audience is taken on a rollercoaster of emotions as Harlee juggles her responsibilities to her daughter, her colleagues, and her own conscience. She faces tough decisions and grapples with lines of morality and legality that become increasingly blurred as the story progresses.
The show is not just a police procedural or a crime drama but also explores the complex relationships between the characters. The audience gets to witness the amped-up tension, steamy romance, and even occasional bursts of humor between them as they navigate their way through a web of gritty and dangerous situations.
As the story unfolds in the second season, viewers discover that Harlee's corruption investigation has unearthed a tangled web of deeper conspiracies that reach higher up the chain of command than she could ever have imagined. Her attempts to bring down the criminal empire that has put her in so much danger prove to be a pivotal moment in the show's story.
In addition to the nail-biting drama, Shades of Blue has also been praised for its diverse cast of characters, who represent a range of ethnic, religious, and sexual identities. The show doesn't shy away from tackling issues of race, class, and privilege, making it not just an entertaining show but also an important one.
Overall, Shades of Blue is a gripping and intense drama that will keep viewers on the edge of their seats. With its complex characters and intricate storyline, the show is a must-watch for anyone who loves hard-hitting dramas that explore the dark side of human nature.
Shades of Blue is a series that is currently running and has 3 seasons (36 episodes). The series first aired on January 7, 2016.