Watch Eat St.
Eat Street brings you the best tasting street food in North America. Tacos, pizza, hot dogs to burgers it's all here and all delicious!
Tuesday 8:00 PM et/pt on Cooking Channel

5 Seasons,

73

Episodes - Currently Airing

8.5/10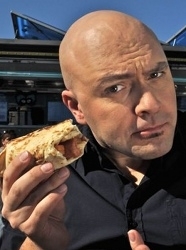 Eat St.

Full Episode Guide
Episode 9 - Buon Appetito!

Yummy food trucks in Toronto, Ontario with the Frankie's Fettuccini truck, Columbus, Ohio with "That Food Truck", Denver, Colorado with the Quiero Arepas truck and Finally in San Francisco, California with Adam's Grub Truck.

Episode 8 - Food Fit for the Gods

Tasty treats in Austin, Texas at The Spartan Pizza trailer, Montreal, Quebec at the St. Viateur Bagel truck, San Francisco, California at the Garden Creamery truck and finally in Columbus, Ohio at the Paddy Wagon truck.

Episode 7 - The Perfect Ploye

Fantastic truck food at Koja in San Francisco, California, Landry & Filles in Montreal, Quebec, Cod Squad in Boston, Massachusetts, and Grilled Cheese Grill in Portland, Oregon.

Episode 6 - Falafelly Good

Featuring hot dogs off the truck at Dougie Dog Diner in Vancouver, British Columbia, Taim Mobile in New York City, Fugu Truck, in Boston, Massachusetts, and Camion Au Pied De Cuchon truck in Montreal, Quebec.

Episode 5 - Funguyz 'n Fun Food

Episode 4 - Claws for Celebration

Episode 2 - Hunger in a Headlock
Episode 25 - Fresh, Local, Wild

Episode 24 - Jamaican Me Hungry

Episode 23 - Hot Haute Cuisine

Episode 22 - Cowboys & Indians

Episode 21 - Tick, Tick, Kaboom!

Episode 20 - Smack Shack-A-Lack

Episode 19 - Hur-raj for Indian Food

Episode 18 - Monsters & Dogs

Episode 17 - Land of the Rising Bun

Episode 16 - Yum Town USA

Episode 15 - Chomp Chomp Chomp

Episode 14 - Pig on the Street

Episode 13 - Carte Blanche

Episode 12 - Health Nuts & Sprinkles

Episode 11 - Wolf, Bears & Rock Stars

Episode 8 - Gorillas, Dogs, Balls & More

Episode 7 - Getting Lucky

Episode 6 - Some of This, Some of That

Episode 5 - Getting Lucky

Episode 4 - In Bacon We Trust

Episode 3 - Music to Your Mouth

Episode 1 - Meat New Friends
If You Like Eat St., Then Try...