Watch Eat St.
Eat St. is a television series which finds unique street vendor food experiences all over the cities of North America. Each new episode takes you on a tour of street vendors selling food you never thought would come from a food truck. Food vendors have gotten slick and savvy and know it takes a great combination in today's market to attract customers. Eat St. finds these vendors and showcases their products to bring a tasty television dish to viewers.
Tuesday 8:00 PM et/pt on Cooking Channel

5 Seasons,

82

Episodes - Currently Airing

8.5/10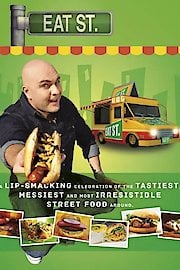 Eat St.

Full Episode Guide
Episode 18 - The Spice is Right

Episode 17 - Rule Brittania

Flying the food truck flag in Toronto, Ontario at the Fiesty Jack truck, in Nashville Tennessee at the Crepe A Diem truck, in Phoenix Arizona at the Luncha Libre truck and finally in New Orleans, Louisiana at the Lola Deux truck.

Soul food on wheels in Orlando, Florida at the Sushi and Seoul on a Roll truck, in Denver, Colorado at the Big Kiwi's Gourmet Eats truck, in Austin, Texas at the Peached Tortilla truck and finally in Los Angeles, California at the Steel City Sandwiches truck.

Episode 15 - Serial Grillers

The most wanted street food in Houston, Texas at the Kurbside Eatz truck, in New Orleans, Louisiana at the La Cocinita truck, in Portland, Maine at the Bite Into Maine trailer and finally in Tuscon, Arizona at the Serial Grillerz trailer.

Episode 13 - Planet of the Crepes

Episode 12 - Viva La Waffle!

Episode 11 - Pretty Thai for a White Guy

Episode 10 - A Side of Groovy

Episode 9 - Buon Appetito!

Episode 8 - Food Fit for the Gods

Episode 7 - The Perfect Ploye

Episode 6 - Falafelly Good

Episode 5 - Funguyz 'n Fun Food

Episode 4 - Claws for Celebration

Episode 2 - Hunger in a Headlock
Episode 25 - Fresh, Local, Wild

Episode 24 - Jamaican Me Hungry

Episode 23 - Hot Haute Cuisine

Episode 22 - Cowboys & Indians

Episode 21 - Tick, Tick, Kaboom!

Episode 20 - Smack Shack-A-Lack

Episode 19 - Hur-raj for Indian Food

Episode 18 - Monsters & Dogs

Episode 17 - Land of the Rising Bun

Episode 16 - Yum Town USA

Episode 15 - Chomp Chomp Chomp

Episode 14 - Pig on the Street

Episode 13 - Carte Blanche

Episode 12 - Health Nuts & Sprinkles

Episode 11 - Wolf, Bears & Rock Stars

Episode 8 - Gorillas, Dogs, Balls & More

Episode 7 - Getting Lucky

Episode 6 - Some of This, Some of That

Episode 5 - Getting Lucky

Episode 4 - In Bacon We Trust

Episode 3 - Music to Your Mouth

Episode 1 - Meat New Friends
If You Like Eat St., Then Try...