Watch Eat St.
Eat Street brings you the best tasting street food in North America. Tacos, pizza, hot dogs to burgers it's all here and all delicious!
Tuesday 8:00 PM et/pt on Cooking Channel

5 Seasons,

77

Episodes - Currently Airing

8.5/10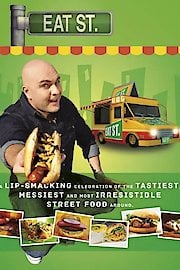 Eat St.

Full Episode Guide
Episode 13 - Planet of the Crepes

Delicious street food in Houston, Texas at the Flip 'n Patties Truck, in Los Angeles, California at the Moe Deli truck, in Philadelphia, Pennsylvania at the Braz-BQ truck and finally in Tucson, Arizona at the Planet of the Crepes trailer.

Episode 12 - Viva La Waffle!

First up we're cruisin' to Lafayette, Louisiana for the Viva La Waffle Truck. Next we're curbside in Hamilton, Ontario for the Johnny Blonde truck Then Columbus, Ohio with the Challah truck! And Finally we roll to Denver, Colorado for the El Toro The Tot truck!

Episode 11 - Pretty Thai for a White Guy

Curbside cruising in Montreal with the Super Truck, Austin, Texas with the Pretty Thai for a White Guy bus, New Orleans with the Taceaus Loceaux truck, and finally Toronto with the Curbside Bliss Cupcakes truck.

Episode 10 - A Side of Groovy

Gourmet street food in San Francisco at the Cosmic American Voodoo Van; Columbus at the Ajumama truck; Ontario at the Karma Chameleon; Austin, Texas at the Biscuits and Groovy Trailer.

Episode 9 - Buon Appetito!

Episode 8 - Food Fit for the Gods

Episode 7 - The Perfect Ploye

Episode 6 - Falafelly Good

Episode 5 - Funguyz 'n Fun Food

Episode 4 - Claws for Celebration

Episode 2 - Hunger in a Headlock
Episode 25 - Fresh, Local, Wild

Episode 24 - Jamaican Me Hungry

Episode 23 - Hot Haute Cuisine

Episode 22 - Cowboys & Indians

Episode 21 - Tick, Tick, Kaboom!

Episode 20 - Smack Shack-A-Lack

Episode 19 - Hur-raj for Indian Food

Episode 18 - Monsters & Dogs

Episode 17 - Land of the Rising Bun

Episode 16 - Yum Town USA

Episode 15 - Chomp Chomp Chomp

Episode 14 - Pig on the Street

Episode 13 - Carte Blanche

Episode 12 - Health Nuts & Sprinkles

Episode 11 - Wolf, Bears & Rock Stars

Episode 8 - Gorillas, Dogs, Balls & More

Episode 7 - Getting Lucky

Episode 6 - Some of This, Some of That

Episode 5 - Getting Lucky

Episode 4 - In Bacon We Trust

Episode 3 - Music to Your Mouth

Episode 1 - Meat New Friends
If You Like Eat St., Then Try...