Watch Fear Factor
Series Length:
7 Seasons,

159

Episodes
Description:
Fear Factor pits American contestants against each other for a set of challenges that no ordinary person would ever want to take part in! From having to bob for apples in a vat of cows blood, to drive a sports car onto a ramp truck, the contestants of Fear Factor have to push their bodies, and their minds, to the absolute limit, all for the hope of going home with the cash prize of $50,000.
To get the desired cash prize, Fear Factor contestants must complete three challenges, the last of which has to be done faster and better than their opponents, making for a hectic finale. Although the format varies occasionally, the first challenge is typically a physical stunt, that always involves a heavy dosage of fear! Everything from jumping between two buildings to having to escape from an underwater burial, the first stunt alone is often more than most competitors can take.
Those who make it through the first challenge are then faced with the stunt that claims the most competitors and is often referred to as the "Gross-out" stunt. These can range from having to crawl through a tunnel filled with rats, to having to eat disgusting animal parts or bugs, all without vomiting! The contestants who claimed they would do anything for the money really have to prove it with the situations the second stunt places them in!
The few contestants who survive the first challenge and endure the second are faced with the last, often hardest, stunt. These stunts always involve something competitive and dangerous, dealing with everything from water to heights. Those competitors who really want the money have to push themselves to the limit to outplay their opponents and win the final challenge, going home with 50 grand the ability to say that fear is not a factor for them!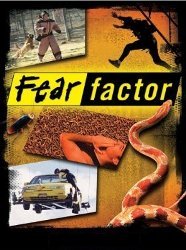 Fear Factor

Full Episode Guide
Episode 9 - Leeches & Shaved Heads & Tear Gas, Oh...

Part 2 of a two-part special where contestants compete for the grand prize of $100,000.

Episode 8 - Leeches, Shaved Heads and Tear Gas, O...

Contestants compete for the grand prize of $100,000.

Episode 7 - The Bees Are So Angry

The contestants must complete five stunts for a grand prize of $100,000 in this special episode of Fear Factor.

Episode 6 - Hee Haw! Hee Haw!

Partners must navigate an electrified labyrinth then face the most disturbing challenge of the season.

Episode 3 - Tall Crappaccino

Episode 2 - Scorpion Tales

Episode 1 - Broken Hearts & Blood Baths
Episode 22 - Celebrity Fear Factor

Episode 20 - Farm Fear Factor

Episode 19 - Blind Date (2)

Episode 18 - Disaster Fear Factor

Episode 17 - Young vs. Old

Episode 16 - Viewer's Choice

Episode 15 - Fire Fear Factor

Episode 14 - Military Fear Factor

Episode 13 - Family Fear Factor

Episode 12 - Reality Stars (3)

Episode 11 - Reality Stars (2)

Episode 10 - Reality Stars (1)

Episode 9 - Freaks Vs Geeks

Episode 8 - Mothers & Sons

Episode 6 - Psycho Fear Factor (3)

Episode 5 - Psycho Fear Factor (2)

Episode 4 - Psycho Fear Factor (1)

Episode 2 - Blind Date Fear Factor

Episode 1 - Heist Fear Factor
If You Like Fear Factor, Then Try...