Watch Ghost Hunters
Series Length:
9 Seasons,

215

Episodes
Schedule:
Wednesday 9:00 PM et/pt on Syfy
Description:
Ghost Hunters is a television show about capturing evidence that ghosts or paranormal entities do exist. The ghost hunting team is headed by its founders, Jason Hawes and Grant Wilson. Together with other trained specialists these men attempt to capture evidence of the paranormal while helping people who believe they are experiencing a haunting.
Instead of jumping to conclusions and imaging that every stray sound is a ghost, the team from Ghost Hunters tries to use facts and science to back up their evidence. The team is first presented with a case. These cases can be at private homes or in famous places that seem to be haunted, such as battle ships, museums or older hotels. The ghost hunting team carefully reviews the claims of a haunting, discussing exactly what people have been experiencing, before they even enter the building.
Once inside a location, the team sets up infra-red cameras and sound recording devices. The team then splits into pairs or groups in order to do personal investigations in each part of the building. The teams first try to debunk, or disprove, any claims they have heard. They believe that an overly active imagination is usually to blame for a suspected haunting. This also lends validity to anything they do find that they believe is paranormal.
After conducting an investigation, which can take anywhere from a few hours to an entire night, Jason, Grant and the rest of the team carefully review all of the data they captured. They watch each video and listen to the sounds they picked up. If they find anything strange they discuss it. Strange occurrences that seem valid are presented to the owner of the haunted building as possible evidence.
On Ghost Hunters, the team has several goals. One is, of course, to prove that paranormal activity does exist. Their biggest goal, however, is to help people who are afraid to live or work in a certain place because they think it might be haunted. The team attempts to lay old ways of thinking to rest, and brings a scientific approach to the not-so-scientific process of ghost hunting.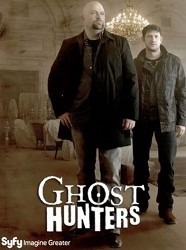 Ghost Hunters

Full Episode Guide
Season 9
(89 clips available)
Episode 16 - Hyde And Seek

First Aired: October 30, 2013

For Halloween, the team is in Hyde Hall in Cooperstown, N.Y., to investigate alleged paranormal activity.

Episode 15 - Shock Island

First Aired: October 23, 2013

The team investigates the Pennsylvania Asylum and Testing Lab in Scott Township, Pa.

Episode 14 - The Coroner's Case

First Aired: October 16, 2013

The team is in Shereveport, LA, investigating claims of paranormal activity at the Rendall Building.

Episode 13 - Undying Love

First Aired: October 09, 2013

The team is in Monticello, Ark., to investigate a mansion where supposedly a woman committed suicide over an ill-fated and secret love.

Episode 12 - Something In The Water

Episode 11 - Hoover Damned

Episode 10 - Vintage Spirits

Episode 9 - Ghost Friends Forever

Episode 8 - The Ghost Hasn't Left the Building

Episode 6 - Ghost from Hale

Episode 5 - All Ghosts On Deck

Episode 4 - Permanent Residents

Episode 3 - Prescription for Fear

Episode 2 - Ghost Mission

Episode 1 - Hollywood Horror Stories
Season 8
(66 clips available)
Episode 26 - Haunted Home for the Holidays

Episode 25 - Due Date with Death

Episode 24 - Higher Dead-ucation

Episode 23 - Paranormal Pioneers

Episode 22 - Heir Apparition

Episode 21 - Tunnels Of Terror

Episode 20 - Fear Factory

Episode 19 - Curtain Call

Episode 18 - Paranormal Politics

Episode 17 - Ghostly Refuge

Episode 16 - Don't Feed The Apparition

Episode 15 - French Quarter Massacre

Episode 13 - A Serial Killer's Revenge

Episode 12 - Please Sign The Ghost Book

Episode 11 - The Princess and the EVP

Episode 10 - Haunted By Heroes

Episode 9 - A Family of Spirits

Episode 8 - A Ghost of a Marine

Episode 5 - Moonshine & Madness

Episode 4 - Dead & Breakfast

Episode 3 - Flooded Souls

Episode 1 - Roller Ghoster
Season 7
(54 clips available)
Season 6
(48 clips available)
Season 5
(55 clips available)
Season 4
(56 clips available)
Season 3
(34 clips available)
If You Like Ghost Hunters, Then Try...