Watch Happily Ever Faster
Series Length:
1 Season,

5

Episodes
Schedule:
Friday 10:00 PM et/pt on TLC
Description:
"Happily Ever Faster" profiles The Chapel of the Flowers, a wedding chapel located in the heart of downtown Las Vegas on the famous Las Vegas Strip. They have five onsite wedding chapels and a complete wedding services menu: flowers, limousines, photography and more. And despite catering to upwards of 50 couples a day (more than 5,000 couples a year), the chapel promises a classy and affordable wedding experience contrary to the majority of the other 120 other chapels on the strip. Their tasteful approach to matrimony sets them apart and is popular to both locals and couples traveling from all over the world. Each episode profiles engaged couples, their background stories and their wild ride at the Chapel - from meeting their wedding planner to scrambling to finish plans in time for the happy, emotional ceremony. But the tears, laughter and bridal drama don't stop at the altar. This family-owned business has its own behind-the-scenes challenges that are tackled head-on by the owners, husband and wife, Jason and Holly Myers and their upbeat and enthusiastic team of wedding planners.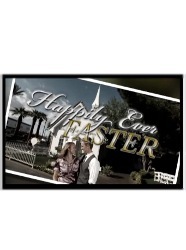 Happily Ever Faster

Full Episode Guide
Episode 6 - Love Addiction & Music from the Heart

Summary is not available.

Episode 5 - Chapel Anniversaries & Dancing Down t...

Summary is not available.

Episode 3 - Groomzilla & a Late Proposal

Episode 2 - Bad Hair & A Baby Shower

Summary is not available.

Episode 1 - Big Belly & The Trekkies
If You Like Happily Ever Faster, Then Try...