Watch Here Comes Honey Boo Boo
The new reality television show Here Comes Honey Boo Boo is a spin off of the hit television show Toddlers & Tiaras. The shows stars Alana Thompson as "Honey Boo Boo", her Dad "Sugar Bear", her mom June "The Coupon Queen", and her sisters. Honey Boo Boo's self-confidence and personality won over an audience.
The reality show is all about Alana's life as a 6 year old beauty pageant sensation and how she is more than just your average beauty queen. Whenever Alana's not trying to win the crown, she is hanging out with her family in Georgia doing the things they do best. Picking up roadkill for their food and four-wheeling through various mud pits.
Each episode follows the young lady's life with her family, but the most appealing thing about the show is her amazing personality and hilarious ways. Unlike the other girls from Toddlers & Tiaras with overly obsessive parents, this young girl is actually passionate about beauty pageants. The funny name, Honey Boo Boo, was a nickname that she gave herself.
You will also hear her say, "A dolla makes me Holla" often throughout the reality show, as it is her catch phrase. Alana Thompson's beauty pageants happen to not be the main plot of the show, as it is more about her family's redneck ways. The Thompson family regularly buys cheese balls in bulk, pork rinds, and believe that passing gas is a smart strategy when losing weight.
The family's antics and Alana's beauty pageant ambitions really makes the show highly interesting. Alana usually gets into arguments with her sisters despite the reason of those arguments not being so big.
Alana is smart, sassy, and sometimes talks with a bit of sarcasm, which definitely suits her over confident personality. She is the youngest out of four sisters and is the most energetic out of the bunch. Her family is very supportive of her beauty pageants and her Mother also does her best to make Alana look her best at every pageant.
When Alana doesn't win a pageant, she doesn't really take it that badly compared to other girls. In one episode, she buys a pet teacup pig after she lost, and told her sisters that she will dress him up in female clothes. This is her way in comforting herself, and regardless of how strange it may seem, Honey Boo Boo is still highly loved around the world.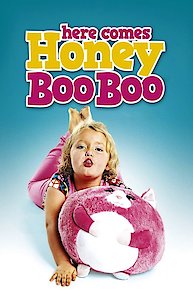 Here Comes Honey Boo Boo

Full Episode Guide
Episode

104

-

WatchNTweet: Yodega

Enhanced episode: June's "b*tching" and nagging overwhelms Sugar Bear, so he gives "yodega" a try.

Episode

103

-

WatchNTweet: De-Stressin'

Overwhelmed by stress, Sugar Bear tries to relax and get back on track.

Episode

102

-

WatchNTweet: Favorite Summer Moments!

Alana reflects on her favorite summer moments.

Episode

101

-

WatchNTweet: Bingo Face

Watch the enhanced episode of Bingo Face.

Episode

100

-

WatchNTweet: Yodega

Episode

13

-

Ain't Gonna Leave Me

Episode

12

-

Trouble in Paradise

Episode

10

-

Spring Broken

Episode

9

-

This Couch is on Fire

Episode

7

-

Vowel of Silence

Episode

5

-

Forced Family Fun!

Episode

4

-

Top 10 Summer Moments

Episode

1

-

3 Generations & 1 Pork Rind
Episode

14

-

New Year's Revolutions

Episode

13

-

Halloween Too

Episode

12

-

You're Be Nineteen

Episode

11

-

Sherlock Poop

Episode

10

-

You Need Your Thumb to Vacuum Clean

Episode

9

-

Can I Say *****

Episode

8

-

Stand Peein' Up

Episode

7

-

Monkeys Make Very Good Brothers

Episode

2

-

The Birds and The Boos

Episode

0

-

Never Boo-fore Seen
If You Like Here Comes Honey Boo Boo, Then Try...
Here Comes Honey Boo Boo News
Mama June Reveals Daughter Pumpkin's Father Is Another Sex Offender
The "Here Comes Honey Boo Boo" matriarch's baby daddy is actually a different sex offender from the one you're thinking of.
Update: Mama June is Dating the Man Who Sexually Abused Her Own Daughter
This story somehow got even worse.
TLC Cancels 'Honey Boo Boo' After Reports of Mama June Dating Child Molester
The network will not air any further episodes due to the report.
'Honey Boo Boo' Parents Mama June and Sugar Bear Are 'Spending Time Apart'
The couple says they have to "figure out some things" in their relationship.
'Here Comes Honey Boo Boo' Star Angers Girl Scouts of America
Alana Thompson sets heads shaking when she uses her Facebook page to promote Girl Scout cookie sales for a friend.
Honey Boo Boo Not a Fan of Being on T.V.
Alana, the star of "Here Comes Honey Boo Boo," tells Dr. Drew she doesn't like being on T.V. and she hates when fans come up to her.
Watch Christopher Walken Read Dialogue from 'Honey Boo Boo'
"Here Comes Honey Boo Boo" needs more class. Enter Christopher Walken and Sam Rockwell, who read some dialogue from the reality show in an interview.
Video: Honey Boo Boo's New Hit
"Jimmy Kimmel Live" hits a clip of Alana with autotune. Epic.
'Here Comes Honey Boo Boo' Preview Clip: Bingo is a Sport?
Is Bingo a sport? Mama June seems to think so, as she drags the whole family to Bingo night to try to win a jackpot for beauty pageant expenses.
Honey Boo Boo Meets 'Gangnam Style'....And It Is GLORIOUS
It works. Don't ask me how, but it works. Someone saw "Here Comes Honey Boo Boo," then heard Psy's "Gangnam Style," then went "EUREKA!" And here we are: the bizarrely infectious "Honey Boo Boo Style." Enjoy the mash-up of the memes.
View More News